I love when I can participate in a campaigne that gives the opportunity to try products and also you can try them too. To find out more about it and to read my other J&J reviews click
here
.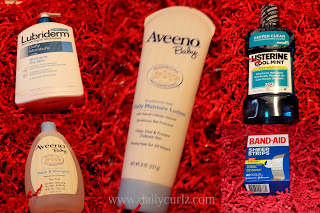 This time I will be reviewing 4 products and you can also win a basket containing these exact products, so you can try it for your self, but first let's get to the review
Aveeno Baby wash & Shampoo:  I don't have a baby anymore, but I used to love Aveeno baby products for my princesas, specially this one because it is tear free and Hypoallergenic, it is lighty scented.. This time I gave these two baby products to a lovely birthday boy back in Dominican Republic and maybe he was expecting a toy-as all kids do- but his Mom was super Happy; She said this brand is her favorite when shopping for his handsome one year old boy.
Aveeno Baby Body Moisturize Lotion: One of the most memorable moments of having a baby was the massage time, right after a bath; This moment was magical, full of stories, songs and intimice. This Lotion was my staple, because it is fragrance free and absorbs quickly into your baby's skin..
Band Aid Sheer Strips: This is super funny, because when I got my gift from  J&J my kids were home and they were super happy to see Band aids on it, there is nothing a band aid can't cure at my house, hahhhahha. This one is really cool because they are Breathable and won't stick to wound for gentle removal.
Listerine Cool Mint: I use mouth wash because I know it is good for me, lol but I don't like them, this one is not as strong and makes my mouth wash moment less painful, hahhaha. Why we need mouthwash? because its provides a way to fight more plaque and gingivitis than brushing and flossing alone can, in a cool mint flavor. In a clinical study, this mouthwash has been shown to reduce 52% more plaque and 21% more gingivitis compared to brushing and flossing daily without the use of mouthwash. 
Lubriderm Daily Moisturizer: Fall is just around the corner and even though this is my favorite season, dry skin comes with it, So I need all the help In a bottle, 🙂 This Lotion will keep your skin soft and smooth, it is  fragrance free, with vitamin B5 and skin-essential moisturizers naturally found in healthy skin. It's clinically shown to lock in moisture for 24 hours. why do I love it? because it is non greasy.
One of you will be able to try these wonderful products, just follow the Raflecopter widget below and good luck.
Disclosure: These products were sent to me by Entre Tu Y yo in colaboration with Latina Lifestyle collective  
These are my opinions. This is not a monetary compensated post..


a Rafflecopter giveaway
Me encanta cuando puedo participar en una campaña que me  da la oportunidad de probar productos y a la vez que ustedes puedan tambien. Para saber más sobre él y para leer mi otra entrada de los productos J & J  
aquí.
Esta vez les estaré hablando de  4 productos y también puedes ganar una cesta contiendolos los cuatros. Para que puedes probar por ti misma, pero primero vamos a ver que me parecieron a mi.
Aveeno Baby wash & Shampoo
:
: No tengo un bebé, pero me encantaban los  productos Aveeno cuando mis princesas eran bebés, especialmente éste porque es hipoalergénico,  libre de lágrima(no pica en los ojos),  y esta ligeramente perfumado .. Les regale este y la loción a un hermoso cumpleañero en República Dominicana y aunque tal vez el esperaba un juguete, -como todo niño- pero la madre tenia una cara de felicidad pues ella me dice que esta es su marca favorita cuando compra productos de aseo personal para su hijo.
Aveeno Baby Body Moisturize Lotion:Uno de los momentos más memorables de tener un bebé era el tiempo de masaje, justo después de un baño; Este momento era mágico, lleno de historias, canciones y conecion . Esta loción fue mi favorita siempre, porque no tiene fragancia y se absorbe rápidamente en la piel del bebé ..
Band Aid Sheer Strips:  Fue muy divertido ver cuando llego mi canasta de regalo de J & J, mis hijas estaban en casa y se pusieron súper feliz de ver curitas en él, No hay nada que unas curitas no curen en mi casa, jjajjaj . Éstas son realmente geniales, ya que son transpirables y no se pegue a la herida para la eliminación suave.
Listerine Cool Mint: Yo utilizo enjuague bucal, porque sé que es bueno para mí, lol, pero no me gustan, éste no es tan fuerte lo que me gusta mucho ¿Por qué necesitamos enjuague bucal?porque brinda una forma mas efectiva de luchar contra la placa y gingivitis que el cepillado y el hilo dental solo, este tiene un sabor de menta fresca. En un estudio clínico, este enjuague bucal demostró reducir la placa 52% más y 21% más en comparación con gingivitis cepillado y uso de hilo dental diaria sin el uso de un enjuague bucal.
Lubriderm Daily Moisturizer: El otoño esta a  la vuelta de la esquina y aunque esta es  mi estación favorita, la piel seca viene con él, así que necesito toda la ayuda embotellada que pueda obtener, 🙂 Esta Loción mantendrá tu piel suave y tersa, es libre de cfragancia, con vitamina B5 y humectantes esenciales para la piel sana. Se ha demostrado clínicamente que mantener la humedad durante 24 horas. por qué me gusto? porque es no grasienta.