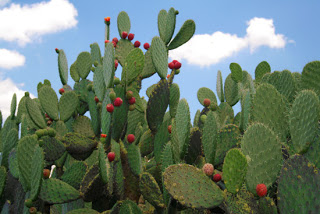 When people find out that I am blogger they don't quite understand what I do, I am talking about grandparents type, that don't use social media and computers that much or at all, In my case they ask me to do their hair and advises, the most funny thing people ask is: Can you make my hair curly? ahhh NOP I can't, sorry to disappoint you, hhahhahhaha. But one thing I love about those chats is that they always have some good advise on what natural conditioner to use, and this is what I am writing about today.. I was very surprised when between a cup of Santo Domingo Coffee an old friend told me how good for hair is the Nopal, at first I was like, really? Nopal? but then I got on my computer and to my surprise, YES, Nopal is a an amazing hair conditioner ideal for dry, damage or dyed hair…
The Nopal is basically 90 to 92% water and contains minerals like calcium and potassium in addition to silica, sodium and small amounts of iron, aluminum, and magnesium, among some others (This cactus is considered as a good source of calcium, since in 100g there are about 80 milligrams of this mineral). nopal also contains, in various proportions, different sugars or carbohydrates and nitrogenous compounds. Nopal is rich in fiber, vitamins (A, B, B2, C and K), riboflavin, vitamin B6, chlorophyll and protein. 
How to use it? 
there are two ways of using Nopal in your hair; you can put it in a blender with water (make sure to clean it first  , there are some videos on youtube on how to do so) Or you can cut it in pieces cover with water and leave it over night like the pictures below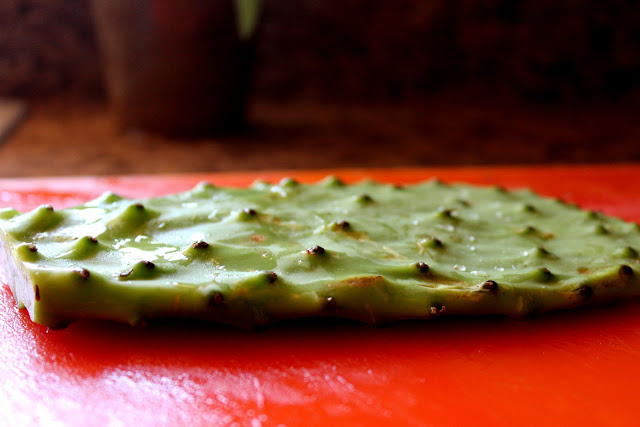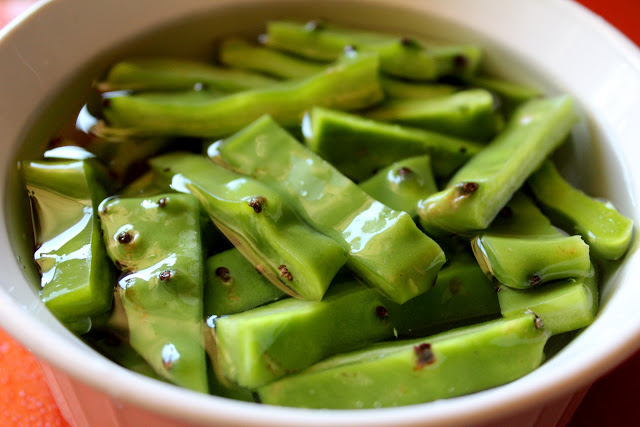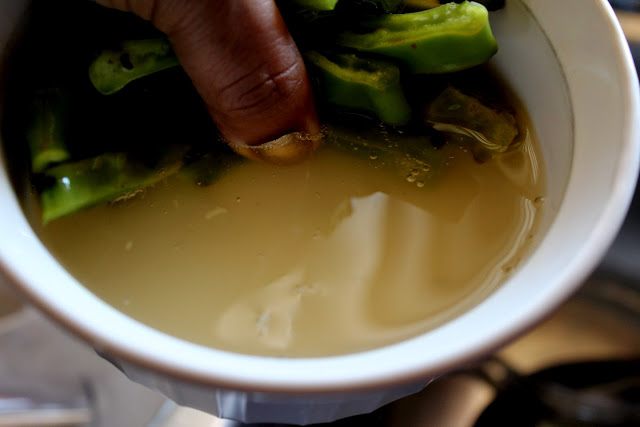 If you want to put it on a blender you have to clean it  like this 
Use the water to rinse your hair and leave it on for an hour or so. You can do this conditioner on dry or damp hair..Since the water is like a gel you can also use it  as a leave in…
Enjoy and please comment your thoughts and Opinions. Besos
Español
Cuando la gente se entera de que soy blogera, no entienden muy bien lo que haces, claro estoy hablando del tipo de personas como nuestros abuelos que no utilizan mucho o para nada el computador, en mi caso siempre me piden que les arregle el cabello o les haga algún peinado, pero lo mas gracioso es que me preguntan : me puedes poner el pelo rizo? ahhh NOP no puedo, siento decepcionarte, jajjajja. Pero una cosa que me gusta de hablar con las personas, personalmente – valga la redundancia -es que siempre tienen buenos consejos sobre qué acondicionadores  naturales usar, y esto es lo que estoy escribiendo hoy .. Yo me quede muy sorpresa cuando entre una taza de café Santo Domingo una amiga  me dijo lo bueno que el para el cabello el Nopal, al principio yo estaba como, ¿en serio? Nopal? pero entonces me senté en mi computador y empece a investigar y  para mi sorpresa, YES, Nopal es un  maravilloso acondicionador muy útil para cabello maltratado, reseco o teñido. Esta planta revive al cabello, lo nutre y le da cuerpo y brillo.
El Nopal es básicamente 90 a 92% agua y contienen minerales como el calcio y el potasio además de sílice, sodio y pequeñas cantidades de hierro, aluminio y magnesio, entre algunos otros (Este cactus se considera como una buena fuente de calcio, ya que en 100g hay alrededor de 80 miligramos de este mineral). El Nopal contiene también, en diversas proporciones, diferentes azúcares o hidratos de carbono y compuestos nitrogenados. El nopal es rico en fibra, vitaminas (A, B, B2, C y K), riboflavina, vitamina B6, clorofila y proteínas.
Como usar?
Cortar varias pencas de nopal  en trocitos y dejarlas en agua toda la noche para que suelten la baba. Usar el resultante como enjuague para el cabello, dejándolo una hora o todo lo que quieras, este tratamiento lo puedes hacer con el pelo seco o húmedo. Como el resultado es una agua gelatinosa también lo puede usar como leave-in o gel de la misma forma que utilizas la sabila.