Hola chicas today I will be showing you my outfit of choice featuring an online store called 
Davideal.com
 , this was my first time buying clothes and shoes online, I was always afraid of making a mistake, so I followed these simple rules that a friend gave me:
Don't go by the size, when ordering clothes online be sure to have by your side a measurement tape, and follow the description on the item and measure your self.
Read the return policy, some websites offer free return/exchanges.
Open a paypal account, I always feel more confident when buying online with my paypal account, plus they have one of the best costumer services ever. 
Ok. No more chat, here is my outfit of choice from 
Davideal.com
.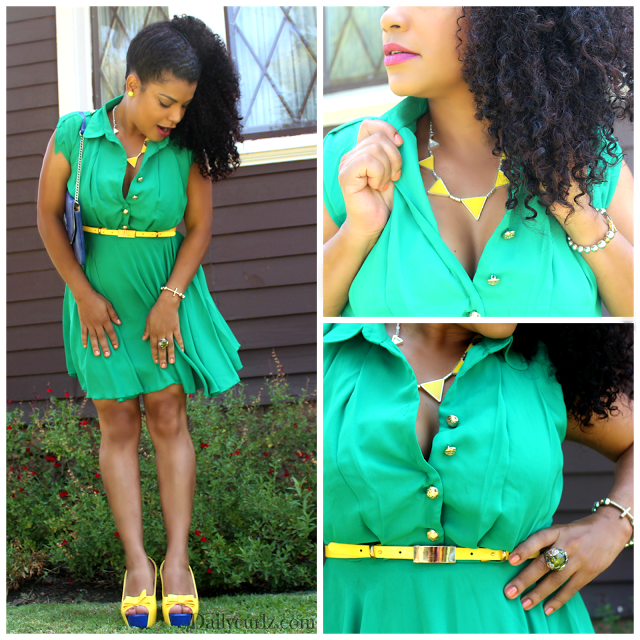 Yellow belt comes with the dress 
Yellow earrings – Old Navy
Purse –
Ring- gifted
Neckless- Nordstrom
Nail polish- Covergirl outlast 505 
This is not an sponsor post, but I did receive some of the items in this post to be included in my editorial calendar. All opinions and pictures are my own. 
Español
Hola chicas hoy les mostrare el outfit de mi elección en la tienda en linea llamada 
Davideal.com
 , ésta fue la primera vez que compro ropa y zapatos en línea, siempre tuve miedo de si hago un pedido, voy a cometer errores, pero gracias a unos consejos de una amiga que ahora compartiré, logre salir con bien, jajjajja:  
No te fijes tanto en las medidas estándares de S, M, L mas bien ten a mano una cinta métrica y lee muy bien las especificaciones de la ropa, en casi todos los casos te especificaran las medidas exactas de busto, cintura, largo, cadera, etc.
Lee muy bien la política de devolución, por si algo sale mal; en la mayoría de estas tiendas en linea, ofrecen devolución / cambio libre de costo.
Abre una cuenta de paypal, siempre me siento con más confianza al comprar en línea con mi cuenta de paypal, además de que tienen uno de los mejores servicios al cliente.Ok. No más charla, aquí está mi outfit de elección de Davideal.com.
Aquí les dejo la descripción del outfit y donde lo puedes conseguir, no te olvides de dejar tu comentario y me dices que te pareció mi elección.. 
La correa amarilla vino con el vestido
Aretes amarillos – Old Navy
Cartera – Nine West
Anillo- Un regalo
Collar- Nordstrom
Esmalte de u
ñ
as- Covergirl outlast 505 
Este no es un enlace patrocinado, pero si recibí como regalo algunas de las piezas en el mismo. Todas las opiniones y las fotos son mías.