This is a sponsor post in collaboration with Latinva to promote their fitness program, all opinions and pictures are my own. 
Get on the floor, Dale… There is nothing better than working out without even knowing it, that is what 
Latinva
 is all about, fun, relax, freestyle fitness program.  If you follow me on my social media, you know that I am a huge fan of working out throughout dancing, and I have been doing it for quite a while, so how is this one different from other dance fitness workouts?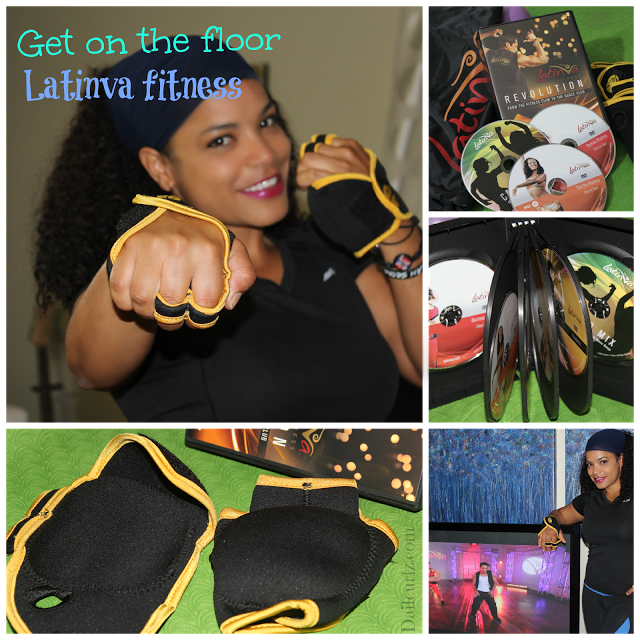 I have been doing Latinva for just a few days, so I will need more time to see actual results on my body, but one thing you will notice right away is how easy this program is, if you follow all the DVDs you will not only be in shape, but you will learn how to dance, no joke, if you are advanced and familiar with the rhythms, you can go ahead and skip the "step by step" dvds, but if you are a beginner, you are gonna love the way they lead you to the dance floor with slow motion views, tempos and ultimately demonstrates each step as a couple.
Latinva
 is a great workout to do with your significant other, after a few days into 
Latinva
,  he won't have an excuse to take you out to dance. 
This workout out plan comes with 10 DVDs, that include:bachata, cha cha, salsa and some other exotic combinations and mixes, the Latinva package also come with a gym bag and weighted gloves (1pound each) to sculpt your upper body and online support and programs. 
This is your chance to win this amazing Latinva package for your self, just enter the raflecopter widget bellow, open to US and PR only 🙁  .You will get the package just like the picture Below:
Este es un post patrocinado en colaboración con Latinva  para promover su programa de acondicionamiento físico, todas las opiniones y fotos son mías.
¡A mover el esqueleto, Dale … Nada mejor que hacer ejercicio sin siquiera saberlo, eso es exactamente 
Latinva
, divertirse, relajarse, un programa de acondicionamiento físico de estilo libre. Si me sigues en mis redes sociales, ya sabes que yo soy gran fan de los ejercicios que involucren baile y llevo un tiempo haciéndolos , así que ¿cómo es este programa diferente a los demás ?
He estado haciendo 
Latinva
 por unos pocos días, así que voy a necesitar más tiempo para ver resultados reales en mi cuerpo, pero una cosa que se nota de inmediato es cómo es lo fácil de seguir este programa, si se siguen todos los DVDs que sólo estarás en forma, pero vas a aprender a bailar, no es broma, si estas familiarizado con los ritmos puedes pasar el o los DVDs de "paso a paso", pero si eres principiante te va a encantar la forma en que te guían paso a paso, con demostraciones lentas y en última instancia, demuestra cada paso con una pareja.
Latinva
 es un gran entrenamiento para hacerlo en pareja, después de unos días en 
Latinva
  tu amorcito no va a tener  excusa para sacarte a bailar.
Los ejercicios en el plan viene con 10 DVDs, que incluyen: bachata, cha cha, salsa y algunas otras exóticas combinaciones y mezclas, el paquete 
Latinva
 también vienen con una bolsa de deporte y guantes con pesas incluidas (1 libra cada una) para esculpir la parte superior del cuerpo, así también como programas y soporte en línea.
Esta es tu oportunidad de ganar este paquete 
Latinva
, basta con entrar el widget raflecopter arriba. Solo para a EE.UU. y PR:( ..Recibirás un paquete al igual que la imagen de arriba: