Curly girls do have more fun, no questions asked; there is no better feeling in the world than being able to enjoy your kids without worrying about your hair. July 5th, me and my family went to Legoland California for a day full of fun. As many of you know, I moved my family from the Dominican Republic a few years ago, so basically any Californian experience is new for us and this time Legoland wasn't the exception.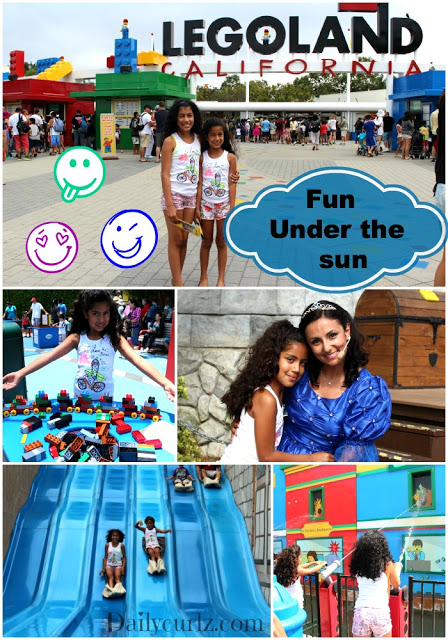 LEGOLAND® California Resort is located just 30 minutes north of San Diego and one hour south of Anaheim. With more than 60 rides, shows and attractions it's an interactive, hands-on theme park experience for families with children 2-12. The Resort is also home to SEA LIFE® Aquarium and the world's first LEGOLAND Water Park.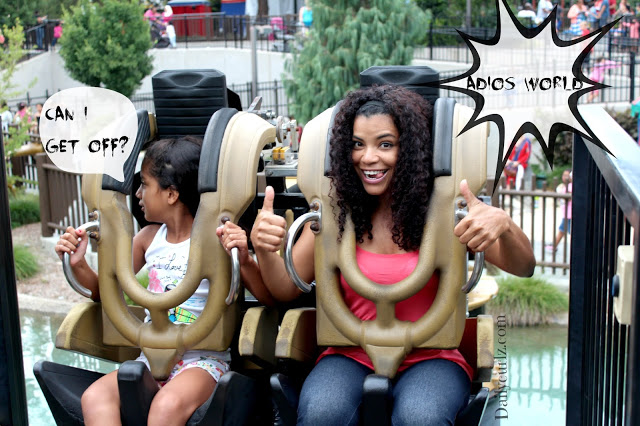 My Thoughts about the park:
It is a beautiful theme park, if your kids are in that stage where they are crazy about legos, look no more.

The website said that it is a park from kids 2-12 but I think it is more focused form kids 2-7, all the rides and activities are really light and soft. In my opinion it is the best theme park for this age range.

The safety is amazing, even if you your child is tall enough to ride in an attraction, they ask for the kid's age.

Easy access to  wheel chairs on most of the rides; I found this feature really cute and amazing.

The food is not what you call good, but they are not that bad, prices go from $10.00 and up, Kids eat free at some restaurants after 5:00 pm

Bring extra clothes to the park for your kids, it has amazing water stations and even a water park that you can enjoy in the same day, so get there early.
Parking fee (Yes you can't get free parking in Cali) $15.00
This is a park made with kids in mind, I already told you that they take safety really seriously, well, you don't event find where to charge your phone that easy; But I did, hahhahhahhahah
Bring some cash, the park has face painting, snack and goodies that you and your kids won't resist.
If you're planning in visiting the park soon, stop by Wendy's restaurant and ask for a kids free coupon.
This is not a sponsor post, But I did receive complementary tickets to visit the park, all opinions, photos and stories are my own. 
Las chicas rizadas se divierten mas, sin duda alguna, no hay nada mejor en el mundo que poder disfrutar de sus hijos sin preocuparse por el cabello. El pasado 5 de Julio, mi familia y yo nos fuimos de parranda a Legoland California para un día lleno de diversión. Como muchos de ustedes saben, me mudé de la República Dominicana hace unos años, por lo que básicamente, cualquier experiencia californiana es nueva para nosotros y esta vez Legoland no fue la excepción.
LEGOLAND ® California Resort está situado a sólo 30 minutos al norte de San Diego y una hora al sur de Anaheim. Con más de 60 atracciones y espectáculos , es un parque interactivo, temático para las familias con niños de 2-12. El complejo también alberga el primer parque LEGOLAND de agua del mundo y el acuario SEA LIFE ®.
Mis observaciones del parque:
Se trata de un parque temático hermoso, si tus hijos están en la etapa en la que están locos por los legos, no busques más.
El sitio web dice que es un parque para niños de 2-12, pero creo que esta mas enfocados a niños de 2-7, todas las atracciones y actividades son muy ligeras y suaves. En mi opinión, es el mejor parque temático para niños dentro de esta edad .
La seguridad es increíble, incluso si tu hijo (a) es alto para montar una atracción, le preguntan la edad para ver si es acto para subirse en la atracción. 
Fácil acceso a niños en sillas de ruedas en la mayoría de las atracciones, me encanto eso.  
La comida no es lo que se llama buena, pero no es tan mala, los precios van de $ 10.00 en adelante, los niños comen gratis en algunos restaurantes después de las 5:00 pm.
Te recomiendo que le traigas ropa adicional a tus peques, ya que las estaciones y atracciones con agua están increíbles y ademas puedes disfrutar el parque de agua en un mismo día, si llegas temprano. 
La tarifa de aparcamiento (Si no puedes conseguir aparcamiento gratuito en Cali) $ 15.00
Este es un parque hecho pensando en los niños, ya te dije que toman la seguridad muy en serio, bueno, no encontraras fácilmente un lugar en donde cargar tu teléfono.
Trae un poco de dinero en efectivo, el parque cuenta con pinta caritas, meriendas y golosinas que tu y tus hijos no se podrán resistir..
Si vas a visitar el parque en estas fechas, pasa por los restaurantes wendy's y pregunta por un cupón de un niño gratis con la compra de un adulto.
Este no es un enlace patrocinado, pero si recibí entrada gratis para el parque para mi consideración, todas las fotos, ideas y opiniones son mías.