Make up done and ready to wear that cute headband I have, but as always, when you are looking for something you can never find it. Headbands, accessories, and bobby pins seem to be the most sneaky pieces, right?
Not anymore, with this DIY rack that you can use for headbands and accessories, made with wine corks that I have been saving for a few months to do some DIY projects including a wine birthday party. 
Let's get crafty curly girl. You will need 
A piece of wood about  18″ x 2 1/2 " (you can use what ever size fits you best)
5 Wine Corks 
Your favorite color paint. I used Rust-oleum 2x ultra cover Semi gloss black and gloss white, to match my room decor.
Contact Cement
Nails or wall hangers
Please follow the directions on the paint you are using and paint the wine corks and the wood separately and let it dry completely. Then use the contact cement (or glue) to glue the wine corks to the wood. Hang on the wall, and your project is ready to enjoy. Crafty you!!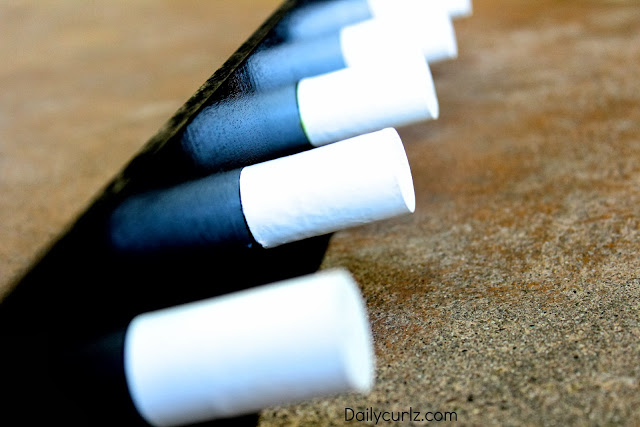 Español
Maquillaje listo y es la hora de ponerme ese accesorio que tengo en mente para el estilo de hoy, pero como siempre sucede cuando estas buscando algo nunca lo encuentras. Las diademas, pinchos/pasadores, accesorios son las piezas mas escurridizas, ¿verdad?
Con este organizador o colgante hecho por ti misma con corchos de vinos todas tus diademas y collares estarán en un solo lugar, donde lo puedes ver y de una manera muy bonita y elegante. Yo he estado guardando o coleccionando corchos de vinos desde hace un tiempo para un cumpleaños con el tema de vinos que quiero hacer algún día, pero he visto varios proyectos con corchos que les estaré haciendo poco a poco.
Manos a la obra Pajonuas. Necesitaras:
Un pedazo de madera de unos 18″x 2 1/2″ (puedes usar el tamaño que prefieras y el que se adecue a tu espacio) 
5 corchos de vinos
Tu color de pintura favorito. Use 
Rust-oleum 2x ultra cover Semi gloss black and gloss white
, para que coincida con la decoración de mi habitación.
Cemento de Contacto
Clavos o ganchos de pared para colgarlo.
Sigue las instrucciones en la pintura que vallas a usar y pinta los corchos y la madera, luego de que la pintura este bien seca, usa el cemento de contacto para pegar los corchos de vinos en al madera (sigue las instrucciones del pegamento que estés utilizando).
Y ya esta listo, es muy sencillo, ahora solo cuelgalo con clavos o cualquier otra opción que mas te convenga. Cuelga y disfruta tu obra.