Este articulo esta disponible en: Español
This post was sponsored by Mindy ProjectScreenvision as part of an Event Activation for Influence Central and all opinions expressed in my post are my own.

Let's face it, one of the biggest challenges of any women is to balance personal and professional life. And, it is not about deciding between one or the other, but to be successful in both. It sounds complicated, right?
My Grandma always said that a successful woman often has to compromise her love life. I grew up believing that statement but like Mindy Kaling, I wasn't gonna settle for that. I went for it all: my professional life and my personal one, which surely wasn't and still isn't easy.
I say that it is completely possible to have both a successful life and a career; with a little (lot) of work. The Mindy Project is probably every boss lady out there trying to be positive and productive with a sprinkle of laugh and sarcasm.
That is probably why I love The Mindy Project so much. I watched her for 5 seasons navigating the tricky waters of both her personal and professional excellence, as she pursued her dreams of becoming the perfect woman, finding the perfect man, and getting her perfect romantic comedy ending.
The season 6 finale is not on Hulu yet, and if you want to experience with me a special screening of the finale, here is your opportunity! Keep reading for all the details about the event where we will have a lot of fun while watching our favorite show, it's "the perfect girl's night out!"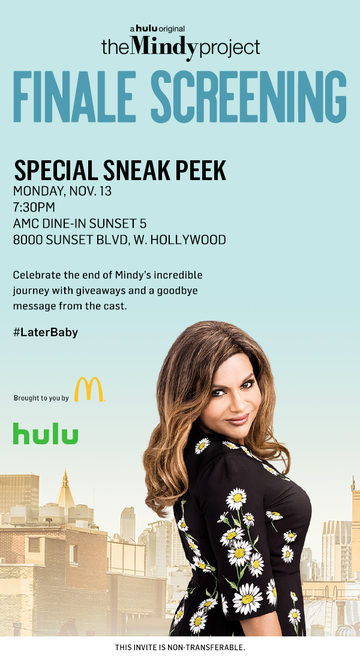 The Mindy Project event will be screening the season finale. 
When: Monday, November 13th.
Time: Plan to arrive at 6:30pm for check-in in order to begin the screening promptly at 7:30pm.
Where: AMC DINE-IN Sunset 5
8000 Sunset Boulevard
West Hollywood, CA 90046
Amenities: complimentary gift bag from Hulu.* *While supplies last.
Complimentary concessions will be provided.* *While supplies last.
Are You down?
Claim your passes by clicking the button below.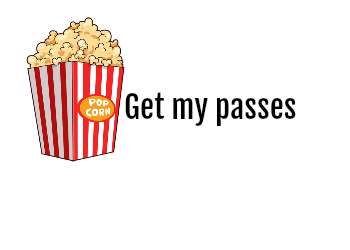 SaveSaveSaveSave
SaveSave
SaveSave
SaveSave
SaveSave
SaveSave
SaveSave
Este articulo esta disponible en: Español