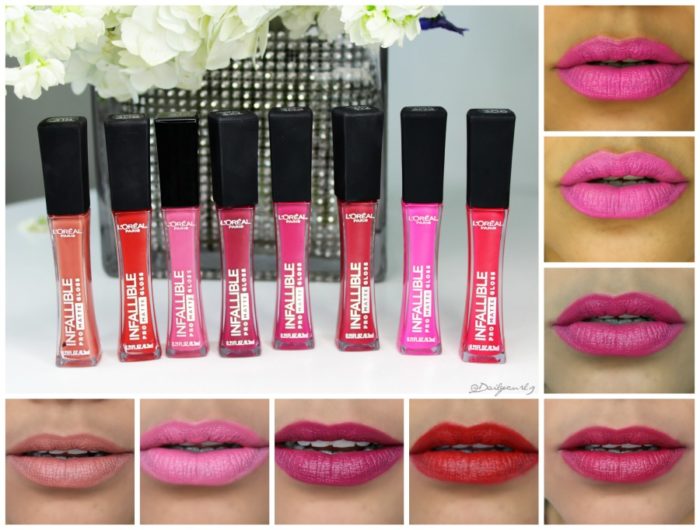 I am a huge fan of bright, bold lipsticks, and as a dark skinned woman, I grew up believing that bold tones didn't go well with my skin type. I was told that and I believed it -The power of words. As a grown up woman, I love versatility, playing with textures, colors, and styles. I found just that in the new L'Oreal Paris Infalible Pro Matte Gloss colors with 10 shades to choose from.
If you are lipgloss lover who loves a matte finish, this new collection is just for you. They are a creamy liquid matte lipgloss that delivers bold and precise color intensity in a new velvet-matte finish, you can pretty much find them at any drugstore and lorealparisusa.com for just $9.99.
My thoughts.. even though the collection has 10 shades I was able to try 8 of them (you can see the shades in the video below) which I love almost all of them on my skin tone. I also love that they are creamy and delivers a matte finish as well. After I used them- one more than other- in several occasions, I only have one negative review which is that they do not last at all. One of the things that I love about matte lipsticks is that they last, but I didn't find that with this line which was kind of disappointed for me.
Let me know if you have try this lip-glosses and which one is your favorite in the comment below.
Español

En sentido general me gustaron los labiales, uno mas que otros. Tienen ese terminado mate que tanto me gusta, pero a la misma vez son suaves y los labios no se sienten resecos. Es un poco confuso que sean mate y brillo a la misma vez, pero me gusto mucho el concepto. El aplicador es muy fácil de usar y son bien pigmentados, por lo tanto no necesitas mucho producto.
Lo único que no me gusto de los labiales es que no son muy duradero, lo cual es algo que me gusta mucho de los labiales matte, pero en sentido general me encanta el concepto y casi todos los labiales, estan disponible en casi todas las farmacias y en lorealparisusa.com