Nothing is more exciting than buying new staffs for my hair, even though the economie is not what you call good right now, I manage to follow any sale and deal out there….
Here are my new toys: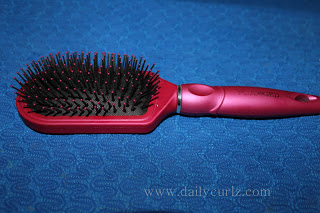 I love this brush, it is honesty the first time I used a brush to detangle my hair, I was a little skeptical about how this brush will work on all this hair, but OMG this brush is just amazing, I love it, love it ,becuase it minimizes the detangle process and it is very gentle to my hair.
Have you tried this or this type of brush before?
oh yes baby, I got not one but tree picks, lol I was  grocery shopping and I turned my head and bummmmmm these gorgeous pink and black picks from Revlon was calling my name, I tried to resist it for like about 30 seconds and then I succumbed to the tentation. These are my first picks and I have big plans for them, lol.
No hay nada más emocionante que comprar cositas nuevas para el cabello, a pesar de que la Economía no esta lo que  llamamos bien, me las arreglo para seguir cualquier  oferta que hay ….
Aquí están mis juguetes nuevos:
Este cepillo(ver arriba) me encanta, honestamente es la primera vez que utilizo un cepillo para desenredarme el cabello, yo estaba un poco esceptica acerca de cómo este cepillo funcionararia en mi cabello, pero OMG este cepillo es simplemente increíble, me encanta porque  minimiza el proceso del desenredado y es muy suave para el pelo.
¿Has probado este o este tipo de cepillo antes?
Ohh yes baby, tengo no uno, sino dos peinetas (la verdad no se, si asi se llaman, lol.)Yo estaba de compras en el  supermercado y volví la cabeza y bummmmmm estas magníficas peinetas de color rosa y negro de Revlon, me veian con cara de llévame a tu casa; traté de resistirme, como por 30 segundos pero sucumbí a la Tentation . Estas son mis primeras peinetas y tengo grandes planes para ellas, jajaja.