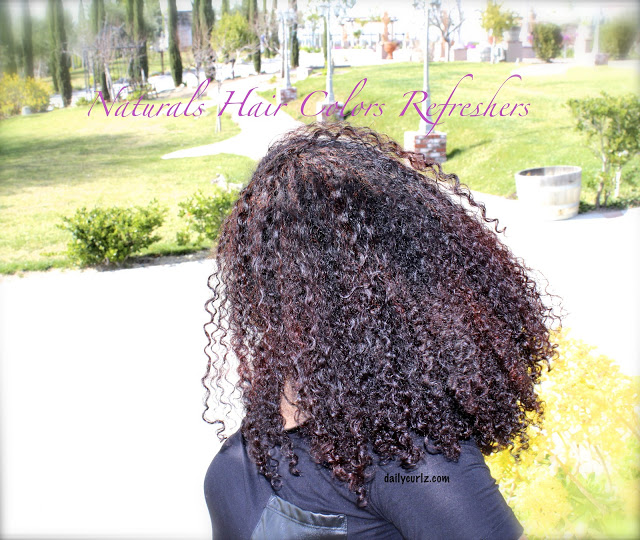 Commercial hair dye products can be quite harsh. The chemicals used to change the hair color can cause it to become dry and brittle, especially if your hair is curly and you use it constantly. 
For me a natural option is definitely more attractive, because I don't have to worry about damaging my hair. You all know by now that I am a
henn
a lover, its make my hair stronger, longer and made me have natural highlights thanks to my grey hair.
I am bringing you a couple of DIY recipes to refresh your color while adding shine, strenghthen  and even help with dandruff. 
For blonde hair
, use
chamomile tea.
Chamomile is a common name for several daisy-like plants from the Asteracea family, and can keep blonde locks looking brilliant. Chamomile is also useful in hair treatments. The yellow color of chamomile infusion imparts brightness and shine and lightened the color of hair. Rinsing with chamomile may also help reduce or prevent hair loss. Use chamomile tea, enough for the treatment. 
For red hair, use a mixture of beet and carrot juice. Beets contain a purple pigment called betacyanin, while carrots get their color from betakeratin. Both pigments are perfect to help refresh red hues. Beets contains carotenoids that can help can increase the quality, thickness and gloss of hair. Use one part beet juice and one part carrot juice.
For brown hair, use espresso mixed with conditioner. The color comes from roasted coffee beans which are then brewed to help keep your brunette hair looking deep and rich. Coffee supposedly helps hair growth a possible stimulant for hair follicles.  One part espresso to two parts conditioner. 
Directions for all treatments,
Wet hair. Add or combine ingredients in a bottle. Shake well and apply to the hair. Put a shower cap on and let sit for 15-20 minutes. Rinse thoroughly and condition.
Do you use Natural hair dyes? 
Please follow and comments, 🙂
Español

Los tintes comerciales para el cabello pueden ser muy dañinos. Los productos químicos utilizados para cambiar el color del pelo puede hacer que se seca y quebradiza, especialmente es su pelo es rizado y lo utiliza constantemente.
Para mí, una opción natural es definitivamente más atractiva, ya que no tengo que preocuparme de mi cabello se pueda dañar. Todas ustedes saben  que yo soy amante de henna, hace mi pelo más fuerte, más largo y me da unos reflejos maravillosos en mis canitas.
Aqui te taigo un par de recetas caceras para refrescar el  color del cabello naturalmente, al tiempo que añade brillo, lo fortalece e incluso ayuda con la caspa.
Para el cabello rubio, utilizar el té de manzanilla. La manzanilla es un nombre común para varias plantas parecidas a las margaritas de la familia Asteraceae, y puede mantener una cabellera rubia con un brillo muy bonit. La Manzanilla también es útil en tratamientos para el cabello. El color amarillo de la infusión de manzanilla da brillo y aclara el color del cabello. El enjuague con manzanilla también puede ayudar a reducir o prevenir la pérdida de cabello. Usar té de manzanilla, lo suficiente para el tratamiento.
Para el cabello rojo, usar una mezcla de remolacha y jugo de zanahoria. Las remolachas contienen un pigmento morado llamado betacianina, mientras que las zanahorias obtienen su color de betakeratin. Ambos pigmentos son perfectos para ayudar a refrescar los tonos rojos. Las remolachas contienen carotenoides que pueden ayudar a aumentar la calidad, grosor y brillo del cabello. Utilice una parte de jugo de remolacha y una parte de jugo de zanahoria.
Para el cabello castaño, utilice cafe espresso (cafe fuerte) mezclado con acondicionador. El color viene de los granos del café tostados que luego son elaboradas para ayudar a mantener el cabello marrón (castaño)  brillante e intenso. El Café supuestamente ayuda el crecimiento del cabello es un estimulante  para los folículos pilosos. Una parte espresso y dos de acondicionador.
Indicaciones para todos los tratamientos,
En el cabello mojado. Agregar o combinar los ingredientes en una botella. Agitar bien y aplicar al cabello. Poner un gorro de ducha plastico y deje reposar durante 15-20 minutos. Enjuague bien y condición.
Y tu utilizas ingredientes naturales para teñir tu cabello? cual o cuales?
Gracias por seguir y comentar en el blog, un besote 🙂