I'm sharing #CurlNourish in my life as part of a Garnier Fructis sponsored series for Socialstars™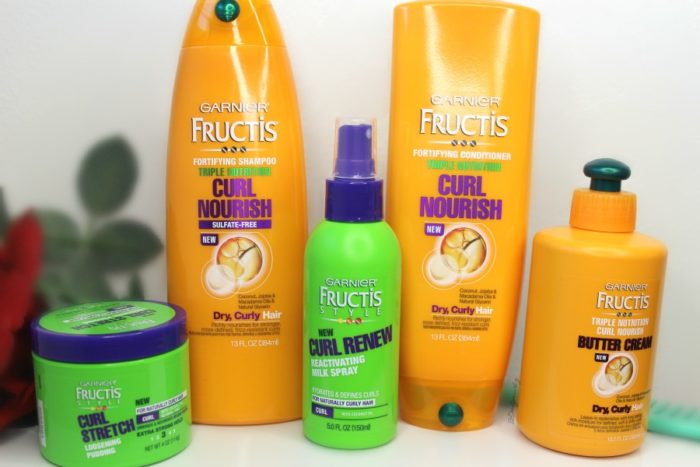 Garner Fructis introduces a totally new line made just for us curly haired girls, drum roll!!! The line isa complete system to achieve nourished curls in every wash; The new Triple Nutrition Curl Nourish Collection that just hit store shelves earlier last month. This is the first Ganier Fructis line of sulfate-free hair care, it contains coconut oil, jojoba & Macademia Oils and natural Glycerin.
A LOOK INSIDE THE GARNER FRUCTOSE CURL NOURISH:
Start with the Garnier Fructis Triple Nutrition Curl Nourish Shampoo. Massage into wet hair and discover a delicious coconut smelling lather that will cleanse your curls while locking in moisture. Yes, this shampoo is sulfate free and it has a very moisture-rich formula due to its natural oil.
Once your hair is completely clean, follow with Garnier Fructis Triple Nutrition Curl Nourish Conditioner. Apply from roots to ends, detangle your hair starting on your end and working the comb up. This conditioner is also great to achieve a co-wash, the scent is just magical and tropical, it helps detangle my curls in no time and the most impressive part was that I didn't have to use half the bottle.  
The next step after you rinse the conditioner out and removed the excess of water with a microfiber towel, apply Garnier Fructis Triple Nutrition Curl Nourish Butter Cream.  Apply about a quarter size portion to damp/wet hair and distribute throughout hair. This is a leave-in conditioner so no need to rinse out. It leaves the hair soft, nourished, and manageable.  
I finish my style with Garnier Fructis Curl Stretch loosening pudding. Apply the product evenly to wet or damp hair making sure every strand of hair is getting the benefit of the product working your way through with your fingers. This rich silky formula replenishes moisture with an ultra dose of nourishment without a greasy or crunchy feeling. Let your hair air dry or use the diffuser for more defined and controlled curls.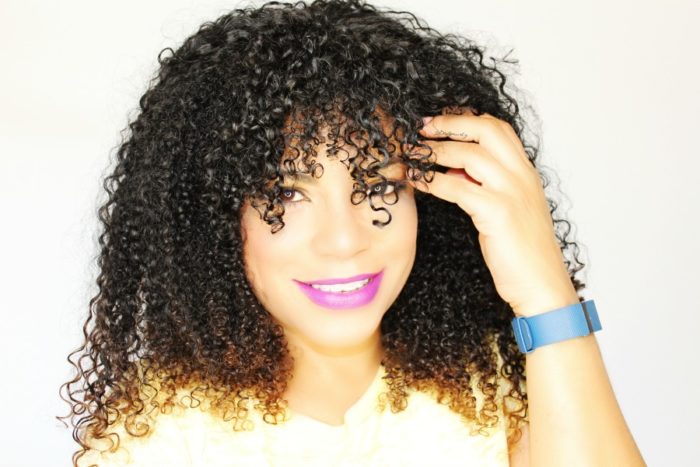 To refresh your curls the next day(s) use Garnier Frutis Curl Renew Reactivating Milk Spray throughout your hair. It conditions the hair surfaces, smoothes and calms frizz, renewing your curls for days to come with just the perfect amount of shine.
Join the Garnier Crowd on Crowdtap for your chance to receive some Garnier goodies HERE! Don't forget to enter your shipping address on Crowdtap once you join, and stay tuned for even more upcoming opportunities to try Garnier products.
Español
Garnier Fructis introduce una linea de productos totalmente nueva sólo para nosotras las chicas del cabello rizado, redoble de tambor!!! La línea es un sistema completo para nutrir los rizos en cada lavada; Triple Nutrition Curl Nourish Collection que esta disponible en las tiendas desde principio del pasado mes es la primera linea de productos de Garnier fructis libre de sulfatos. Los productos están enriquecidos con aceite de coco, aceites de jojoba, macadamia y glicerina natural.
UNA MIRADA DENTRO DE LA LINEA TRIPLE NUTRITION CURL NOURISH: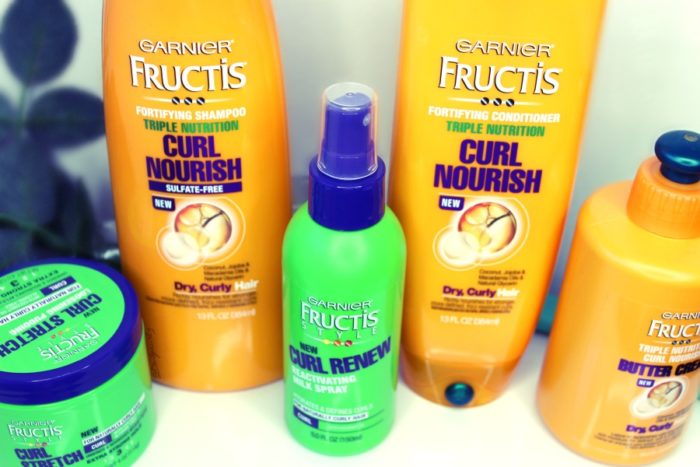 Comenzamos con Garnier Fructis Triple Nutrition Shampoo. Masajea en todo el cabello mojado incluyendo el cuero cabelludo y descubre una deliciosa fragancia a coco con abundante espuma que limpiara tus rizos mientras bloquea la humedad, dejándolo suave e hidratado. Sí, este champú es libre de sulfato y deja el cabello muy suave gracias a sus aceites naturales.
Una vez que el cabello está limpio, seguimos con Garnier Fructis Triple Nutrition Curl Nourish Conditioner, aplicar de raíz a puntas, desenredar el cabello comenzando por las puntas y continua desenredando gentilmente hacia las raíces con un peine de dientes anchos. Este acondicionador es perfecto para hacer co-wash también. Con un olor tropical ayuda a desenredar el cabello dejándolo libre de nudos y lo mas sorprendente con poco producto.
El siguiente paso después de enjuagar el acondicionador y eliminar el exceso de agua con una toalla de microficha, es aplicar crema para peinar sin enjuague Garnier Fructis Triple Nutrition Curl Nourish Butter Cream. Aplicar en todo el cabello húmedo o mojado. Este es un acondicionador sin aclarado así que lo dejas en el cabello para proseguir con el siguiente paso o terminar aquí si lo deseas.  Deja el cabello suave, nutrido y manejable.
Para terminar mi wash-n-go seguí con Garner Fructis Curl Stretch loosening pudding. Aplicar el producto uniformemente sobre el cabello mojado o húmedo asegurándose de que cada hebra de cabello este recibiendo el beneficio del producto, puedes usar un peine o tus dedos para distribuirlo por todo el cabello. Esta rica fórmula repara la humedad con una dosis ultra de humectación sin dejar el cabello grasoso o duro. Dejar secar el cabello al aire libre o con el difusor de pelo para unos rizos mas controlados y definidos.
Si necesitas refrescar tus rizos en los siguientes días solo rocía un poco de Garnier Frutis Curl Renew Reactivating Milk Spray en todo tu cabello. Esta lechita acondiciona la hebra del cabello dejándolo suave y brillante mientras revive los rizos.
Si te gustaría tratar estos u otros productos Garnier unete al Crowdtap para tener la oportunidad de recibir algunos productos AQUÍ! No te olvides de introducir tu dirección cuando te inscribas y mantente alerta para más oportunidades de tratar productos de Garnier.