I'm sharing this summer curly hairstyle #CurlsCan as part of a Garnier Fructis sponsored series for Socialstars™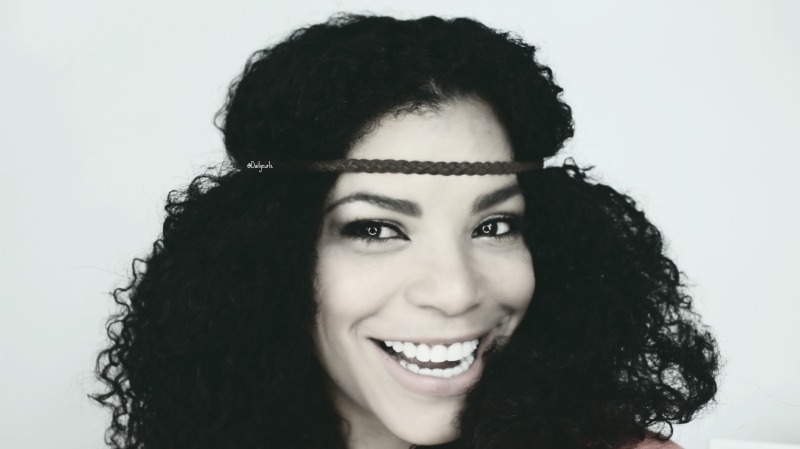 I love my hair out and about almost all the time, but when it's summer time, I like to be creative with hairstyles that make me feel comfortable, cute, and most importantly fresh/cool. This one is by far my favorite summer curly hairstyle for many reasons: super easy, super cute, and super fast.
Cute summer curly hairstyles are great to keep your hair protected and away from your face, but keep in mind that you have to keep a good hair routine to have healthy and hydrated curls. I try to do deep treatments almost every week to keep my hair moisturized.
I rarely use any heat on my hair during summer months, instead I embrace my texture and to moisturize it and refresh my curls daily I use Garnier Frutis Curl Renew Reactivating Milk Spray throughout my hair. It conditions the hair surfaces, smoothes, and calms frizz, renewing your curls for days to come with just the perfect amount of shine.
Say NO!… to alcohol, peroxide, sulfate, etc. these products will cause your hair to dry out faster and will speed the process of damage caused by the sun. If you are using the Garnier Fructis Triple Nutrition Curl Nourish, you are pretty much covered with the best products for your curls this summer. And if you want to try it join the Garnier Crowd on Crowdtap for your chance to receive some Garnier goodies! Don't forget to enter your shipping address on Crowdtap once you join, and stay tuned for even more upcoming opportunities to try Garnier products Here
Be creative with your curls this summer: hair accessories, hats, scarfs, caps, and updos are your best friends, if you need motivation check this style that has become my staple during summer months.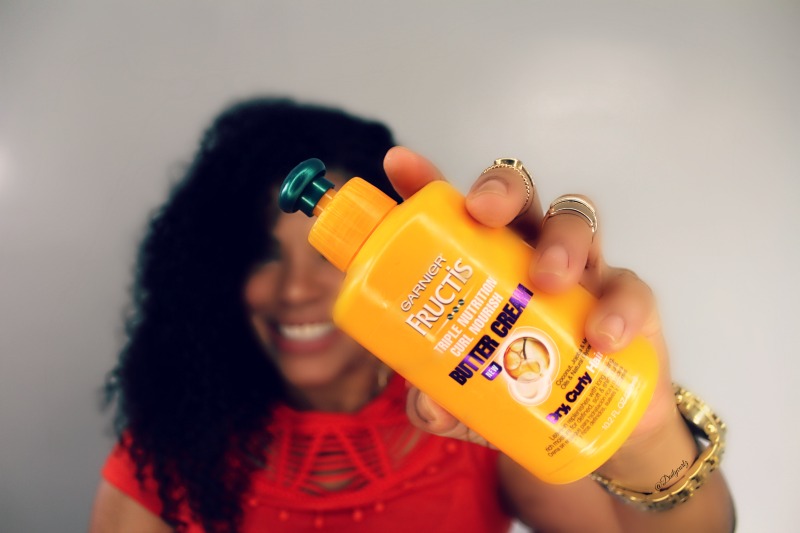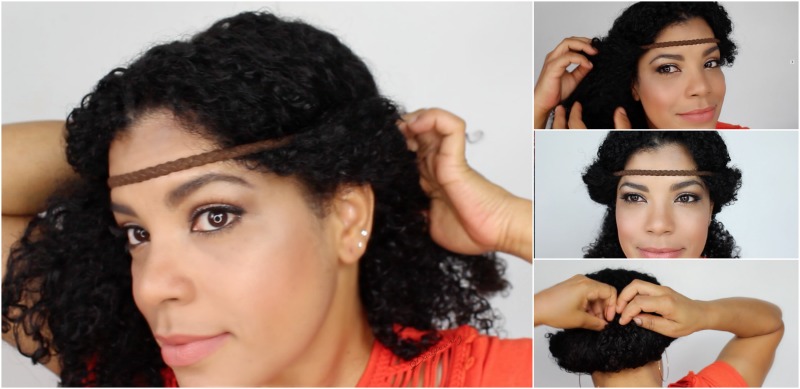 Start by applying Garnier Fructis Triple Nutrition curl nourish butter cream to soften your hair, I never touch or manipulate my curls when they are completely dry, so I spritz it with water and then add leave-in conditioner.
Put a hairband across your forehead and begin to tuck your hair into it.
Every time you tuck in your hair, secure with bobby pins.
Voila! You have yourself a cute summer curly hairstyle! 
Español
Me encanta mi cabello suelto y así lo llevo casi todo el tiempo, mas sin embargo, cuando llegan los meses de verano, me gusta ser creativa y jugar con estilos que sean fáciles de hacer y lo mas importante que me mantengan fresca en los días calurosos. Este estilo es uno de mis peinados favoritos porque es muy fácil de hacer, no necesito muchos accesorios y a la vez es muy lindo.  Los peinados como este no solo te mantienen fresca, pero a la misma vez protegen tu cabello, ya que tus puntas no están al aire libre.
Ten pendiente que no porque tu cabello este recogido no tienes que llevar una buena rutina para que estos estén sanos e hidratos. En ese sentido, durante el verano querras mantener tus rizos bellos haciendo tratamientos profundos todas las semanas.
Yo rara vez uso calor durante los meses de verano, lo considero una perdida de tiempo tomando en cuenta que hay mucha humedad. En su lugar tomo partido de mi hermosa textura de cabello y lo refresco a diario con Garnier Fructis Curl Renew Reactivating Milk Spray una lechita sin enjuague que reactiva mis rizos y los mantiene super hidratados, a la vez que suaviza y controla el frizz con un brillo ligero.
Dile no! … Al alcohol, peróxidos, sulfato, etc. estos productos hará que tus rizos se resequen y acelerarán el proceso de daños causados ​​por el sol. Si estás utilizando la linea de Garnier Fructis Triple Nutrition Curl Nourish, estas  más o menos cubierta con los mejores productos para tus rizos este verano. Si aun no lo has usado entra a este enlace AQUI por la oportunidad de tratar productos Garnier gratis, no olvides el entrar tu dirección.
Se creativa con tus rizos este verano: usa accesorios para el cabello, gorros, gorras, sombreros y bufandas para proteger tu cabello del sol y para esos días en los cuales tu cabello no coopera o simplemente para cambiar y variar. Para este estilo sigue estos simples pasos: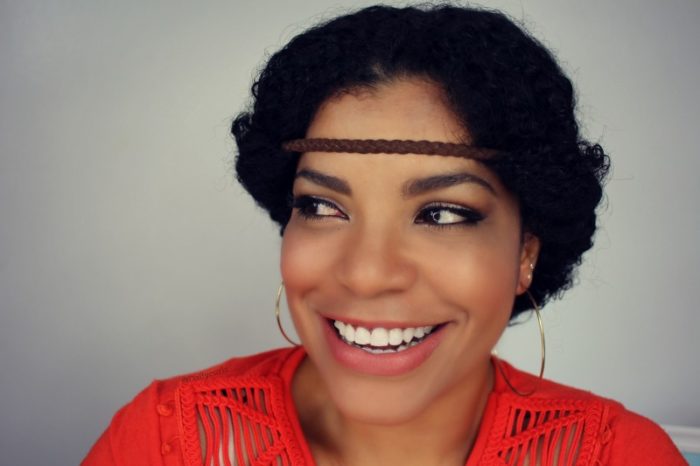 Comienza aplicando Garnier Fructis Triple Nutrition curl nourish butter cream para suavizar el cabello, yo nunca toco o manipulo mis rizos completamente secos para evitar que se quiebren, así que luego de rociar un poco de agua, aplico un poco de esta crema sin enjugue para preparar mi cabello.
Pon una diadema (cintillo, bandita) cruzando tu frente y amarrala en la parte de atrás.
Luego entra tu cabello alrededor de la diadema, mientras vas asegurando con pinchos o pasadores.
Voila! Ya tienes un hermoso y fácil peinado para este verano!