I participated in an Ambassador program on behalf of Mom Central Consulting for Kohl's. I received Kohl's gift cards and sample pieces to facilitate my posts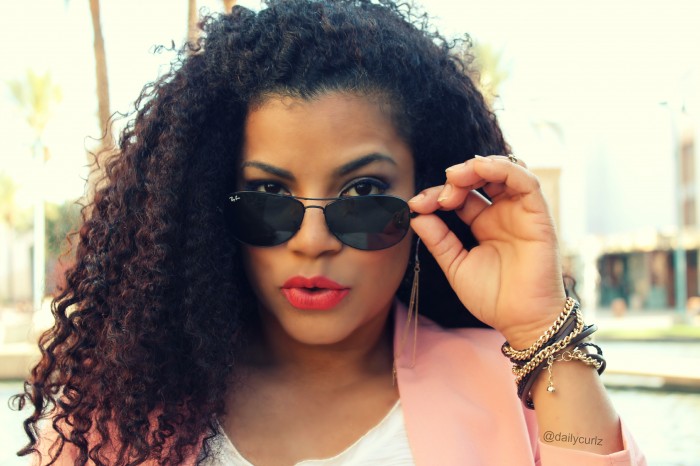 A stylish women is not always a rich one, but the one that knows how to shop and knows how to mix and match the right pieces in their closet with style. This is something I am learning with the practice, if you take the time to look around your closet, you will be surprised of the combination you can create. It is also very important to shop smart and wisely, and kohl's is a perfect place to do that. I went to kohl's to shop for the new Peter Som collection, and it was amazing to finally see and try the most talked about Kohl's partnership. Peter Som collection bring runway looks into our everyday wardrobes at an affordable price that I can pay. I tried all the Peter Som collection pieces, even though I was only going to buy one or two 🙂 the patterns are gorgeous and very creative, and the quality of the fabric is really high end. Peter Som collection is an excellent option for spring and summer for its fresh designs and textures. I chose two pieces and here is how I styled them, stick around at the end of the picture for another Giveaway of a $100 gift card.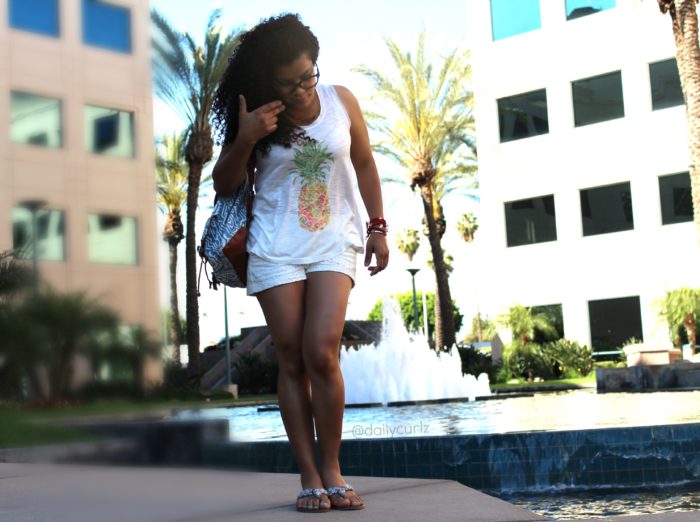 Peter Som for DesigNation Pineapple Tank
Peter Som for DesigNation Eyelet Shorts 
sonoma sandals
Accessories from my closet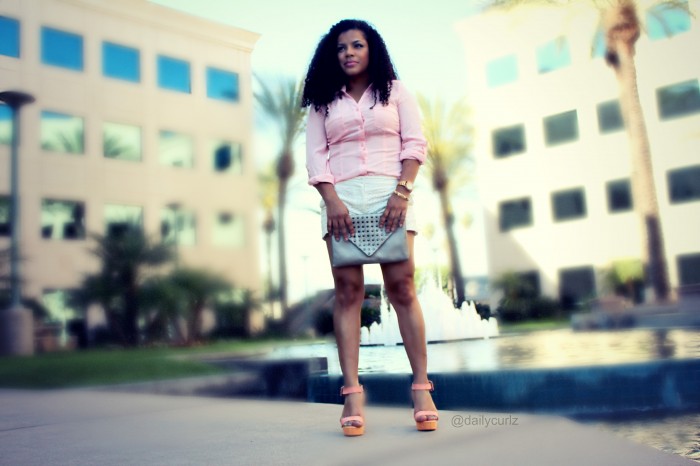 Blouse Candie's
Peter Som for DesigNation Eyelet Shorts  
Apt. 9 Clutch
Accessories and Shoes from my closet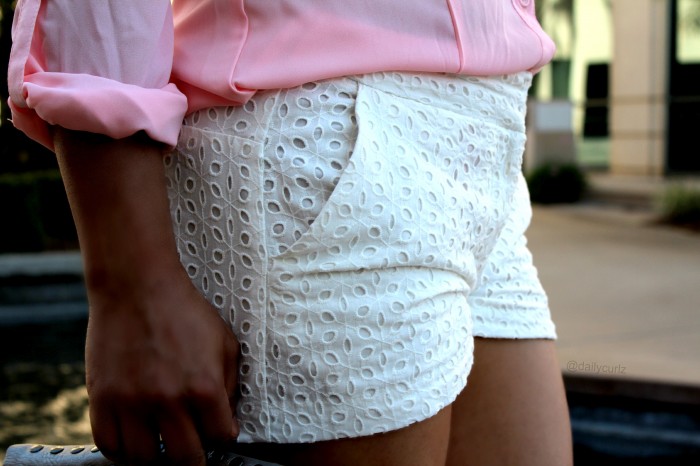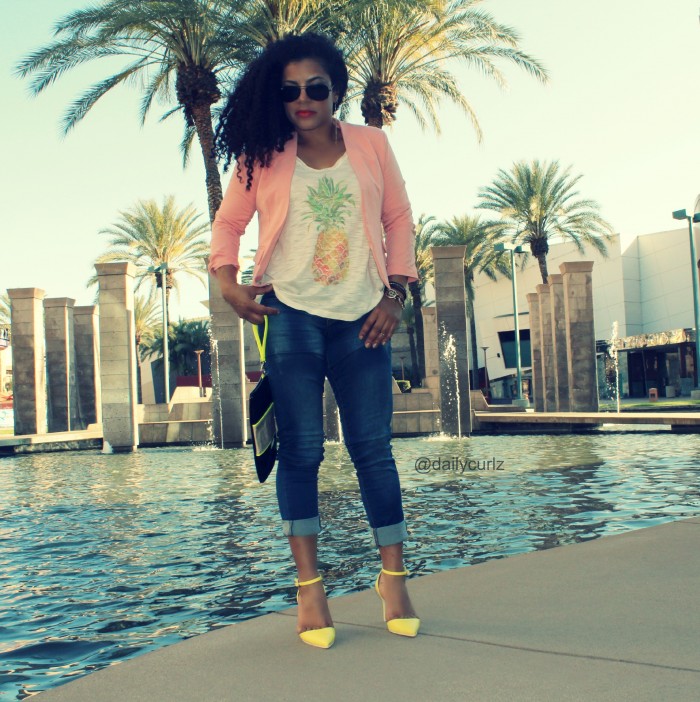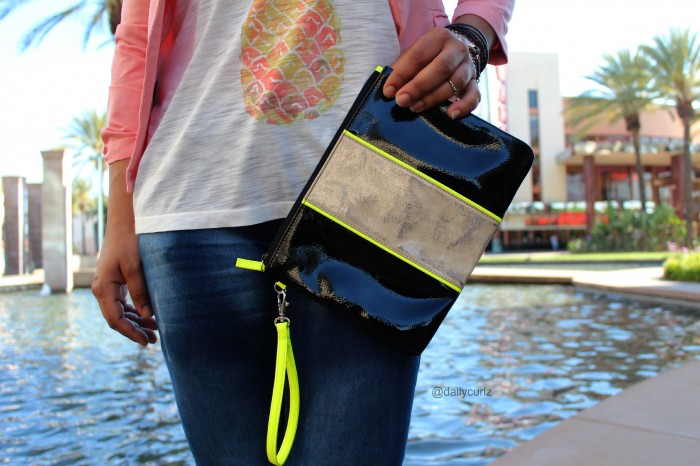 Learn more about the Peter Som Collection here  and enter the rafflecopter widget below for a chance to win a kohl's $100 gift card.
Español
Soy Embajadora de marca en nombre de  Mom Central Consulting para Kohl's. Recibí tarjetas de regalo y piezas  para facilitar mis artículos.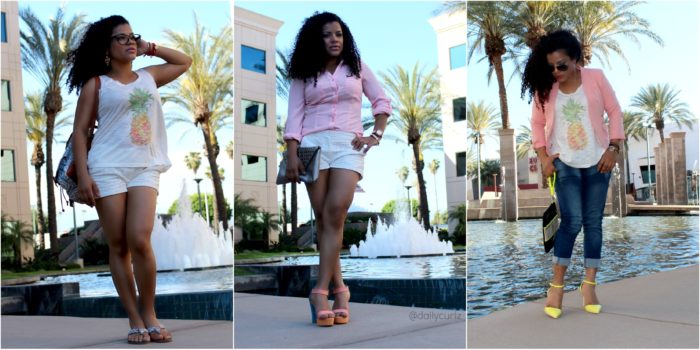 La mujer con estilo no es siempre la mas rica, pero aquella que sabe comprar, combinar y mezclar las piezas correctas en su guardarropa con estilo. Esto es algo que estoy aprendiendo en la práctica, se toma un tiempo el buscar las mejores piezas, pero es sorprendente las combinaciones que se pueden lograr cuando las juntas con las que ya tienes en casa. También es muy importante hacer compras inteligentes y con prudencia y Kohl's es un lugar perfecto para hacer eso. Fui a Kohls a ver la nueva colección de Peter Som, y finalmente ver en piezas y sentir la tela de los diseños de los cuales les he venido hablado en posts anteriores. La colección de Peter Som trae a nuestros armarios piezas de alta calidad y de diseñador que gracias a Kohl's podemos adquirir a buen precio. Me he probado varias piezas y todas me han encantado, pero al final me, decidí por Peter Som for DesigNation Pineapple Tank (blusa) Peter Som for DesigNation Eyelet Shorts  (pantalones cortos). La calidad de las telas de la colección completa es increíble, super fresca y de diseño divertidos, una excelente opción para la primavera/verano. En las fotos de arriba pueden ver las combinaciones que forme, que les parece? y no se olviden de entrar al concurso de una tarjeta de regalo de $100 para que se vallan de shopping.