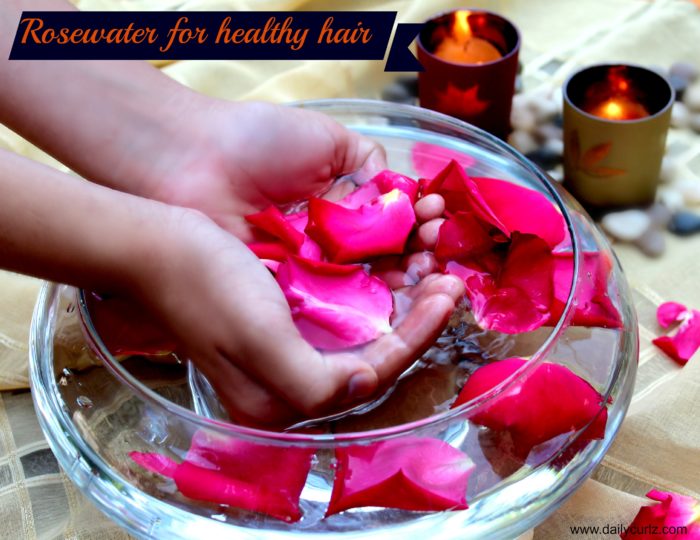 Long days at the beach can leave our hair brittle and dry, and Rosewater really helps in bringing glossy natural hair back during summer months. Rose water is a product of rose oil through distillation of pure fresh rose petals, it is rich in flavonoids and vitamins A, C, D, E, and B3. Regular use of rose water helps keeping a clean scalp, increases blood flow in the hair follicles, and promotes hair regrowth.
You can definitely buy Rosewater or you can you make one from scratch. To make Rose water, just boil 1 pound rose petal and 1/2 liter of water  to reduce about 60%, let it cool down, strain and store in a glass jar in the refrigerator.
Rosewater will be specially good for you during and after summer months to repair your hair from the damage of the sun, saltwater and chlorine. Add a few drops of vitamin E and jojoba oil to make a hair rinse, use it after shampoo (before or after conditioner) gently massage for a few minutes, rinse out and style as usual.
Moisturizes and Conditions the Hair Follicles
Promotes hair growth and prevents hair loss improving blood circulation on the scalp.
Helps treat inflammation around the scalp as it has therapeutic properties. Adding rose water to your regular shampoo might help moisturize and condition your hair.
Make hair shinier, softer, and healthier.
Reduces dandruff caused by fungal infections.
Stabilizes porosity, because the  pH balance of rose water is similar to the hair in the optimal state.
Helps to moisturize and smoothens the cuticle.
Mix it with Glycerin in equal parts to nourish, strengthen and moisturize the hair follicles. leave it on for 30 minutes as a pre-poo then rinse, wash and style as usual.
Rose water can be applied directly on your scalp and hair by itself or even added to your favorite shampoo or conditioner.
Add a few drops to your water bottle to refresh your curls.
Have you used rose water before on your hair or your skin? if so, comment down below.
Español
Largos días en la playa te pueden dejar el cabello super reseco, y el agua de pétalos de rosas realmente te puede ayudar a mantener un cabello natural mas brillante durante los meses de verano.  El agua de rosas es un producto sacado del aceite de rosa a través de la destilación de los pétalos de rosas frescas y pura, es rica en flavonoides y vitaminas A, C, D, E y B3. El uso regular de agua de rosas ayuda a mantener un cuero cabelludo limpio, aumenta el flujo sanguíneo en los folículos del cabello y promueve el crecimiento del cabello sano.
Definitivamente,  puedes comprar agua de rosas o puedes hacer una desde cero. Para hacer el agua de pétalos de rosas, hierve 1 libra de pétalos de rosas en 1/2 litro de agua hasta reducir mas o menos en un  60%, déjalo enfriar, colar y guardar en un frasco de vidrio en el refrigerador.
El agua de pétalos de rosas será especialmente bueno durante y después de los meses de verano para reparar el cabello de los daños del sol, el agua salada y el cloro. Añadir unas gotas de vitamina E y aceite de jojoba para hacer un enjuague para el cabello, usar después del champú (antes o después del acondicionador) tasajear suavemente durante unos minutos, enjuagar y peinar como de costumbre.
Hidrata y acondiciona los folículos pilosos
Promueve el crecimiento del cabello y evita la pérdida de cabello, mejorando la circulación sanguínea en el cuero cabelludo.
Ayuda a tratar la inflamación en todo el cuero cabelludo, ya que tiene propiedades terapéuticas, agregar el agua de pétalos de rosa a tu champú regular, podría ayudar a hidratar y acondicionar el cabello.
Agrega brillo y suavidad al cabello.
Ayuda a reducir la caspa causada por infecciones por hongos.
Estabiliza la porosidad, porque el equilibrio del pH del agua de rosas es similar a la del cabello en su estado óptimo.
Ayuda a hidratar y alisa la cutícula.
Si lo mezclas con glicerina en partes iguales, ayuda a nutrir, hidratar y fortalecer los folículos pilotos. dejar actuar durante 30 minutos como un pre-poo, luego enjuaga, lava y peina como de costumbre.
El agua de pétalos de rosas se puede aplicar directamente en el cuero cabelludo y el cabello, solo o incluso añadir a tu tratamientos a tu champú favorito.
Excelente para añadir a tu botella atomizador para refrescar tus rizos.