I have always been a huge fan of the Rose Parade, I remember watching it on a black and white tv, that we had to turn on the night before, so it will get warm and we could see the images on it, oh boy we come far from those old times. Can you imagine my excitement the first time I saw the rose parade on full color? So for me, living near the actual Rose Parade is just unbelievable and if someone would've told me back then that I would be helping decorate one of the floats, I would be like, no way. Last weekend and for the second year the DOLE food invited me to a family fun event, where we all got the chance to get our hands on the float and help create magic.
DOLE Rose Float facts:,
 "Sunrise at the Oasis," brings together a dazzling floral display of live and animated entertainment as three waterfalls cascade into an abundant oasis filled with palm trees, tropical flowers and animals that command attention, such as the white peacocks and camels adorned with elaborated tapestries and jewels.  As the sun rises, the whimsical oasis awakens from its majestic dreams, bidding its traveler adieu. Featured throughout this floral masterpiece are fresh and healthy fruits, including bananas, pineapples, mangos, papayas, peaches, strawberries and blueberries that are grown and provided by Dole for use on their float.
A whimsical oasis of graceful sculptured palm trees, with lavish cascades of lavender Cattleya and dendrobium orchids, provides a fantasy canopy over lush floral gardens of over 40,000 hot pink Princess roses that ramble through colorful tropical gardens created from thousands of specialty anthuriums, cypripedium and hybrid vanda orchids.  Foliages and ferns are intermixed with bromeliad plants to complete the exotic gardens.
Traditional folk music will play with crowd-pleasing performances in motion featuring live drummers and a variety of dazzling dancers including belly dancers, veil dancers, sword dancers, wing dancers and fire dancers at street level on both sides of the float.
The DOLE "Sunrise at the Oasis" float was designed and created by Fiesta Parade Floats, which built 20 consecutive Sweepstakes Trophy Winners in the Rose Parade—including DOLE'S previous three entries in 2011, 2012 and 2013.
Are you a Rose Parade Fan?
Español
Siempre he sido un gran fan del Desfile de las Rosas, recuerdo verlo en un televisor blanco y negro , que teníamos que encender la noche anterior, para que se calentara y pudiéramos ver las imágenes ,jjeje, que lejos hemos llegado desde aquellos viejos tiempos. Te imaginas mi emoción la primera vez que lo vi a color? Si alguien me hubiese dicho que un día estaría ayudando a decorar una carroza, le hubiese dicho que estaba loco. La semana pasada fui invitada por Dole a un evento familiar en donde ademas de divertirnos, pudimos ver de cerca la carroza que se presentara en el desfile y poner nuestro granito de arena en la decoración y ser parte de la magia.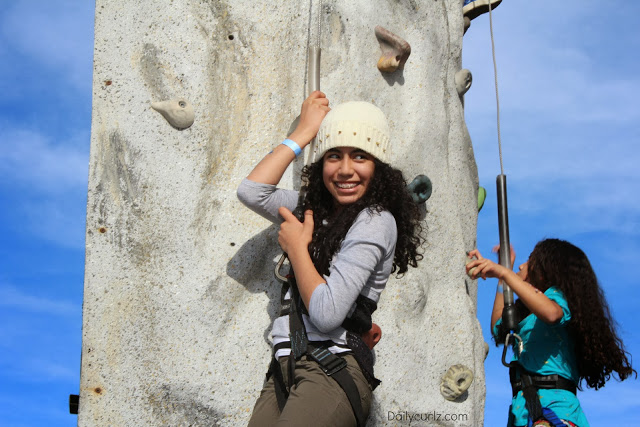 Y ellas a divertirse de lo lindo, después que pegaron algunas semillas 🙂
DOLE Rose datos de una Carroza:
 " Sunrise at the Oasis ", reúne una exhibición floral deslumbrante de entretenimiento en vivo y animado como tres caídas de agua en cascada en un oasis lleno de abundantes palmeras, flores tropicales y animales, como pavos reales blancos y camellos adornados con tapices elaborados y joyas.  Destacados a lo largo de esta obra maestra floral están las frutas frescas y saludables como los plátanos, piñas, mangos, papayas, duraznos, fresas y arándanos que se cultivan y proporcionados por Dole para el uso en su carroza .
Un oasis caprichoso de gráciles palmeras esculpidas con cascadas espléndidas de Cattleya, lavanda y orquídeas, ofrece una fantasía de exuberantes jardines de flores, con más de 40,000 rosas rosado intenso que deambulan por los jardines tropicales de colores creados a partir de miles de anturios y orquídeas. Follajes y helechos se entremezclan con las plantas de bromelia para completar los exóticos jardines .
Música popular tradicional se tocara en vivo con gran variedad de bailarines deslumbrantes incluyendo danza del vientre, bailarines con velo, bailarines de espada y bailarines de fuego a nivel de la calle a ambos lados de la carroza.
La carroza DOLE "Sunrise at the Oasis" fue diseñado y creado por Fiesta Parade Floats, que construyó 20 consecutivos carrozas ganadoras en el pasado – incluyendo las tres entradas anteriores de Dole en 2011, 2012 y 2013 .
Y tu eres fan del desfile de las Rosas, tienes alguna anécdota?