Este articulo esta disponible en: Español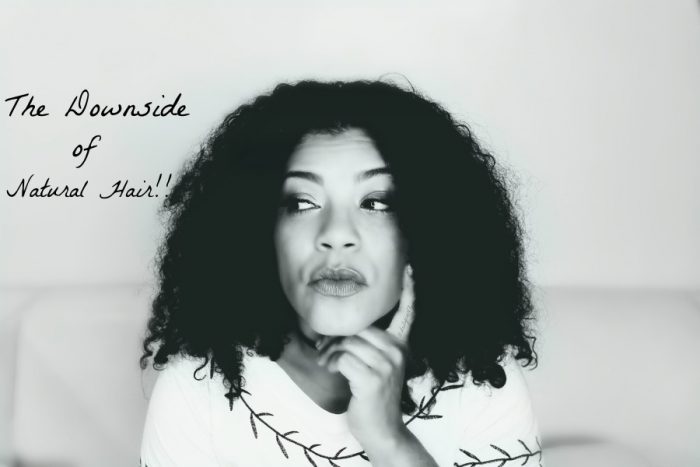 For a natural advocate like I am, writing about the downside of Natural Hair may sound strange. The truth is that I believe that nothing in this life is 100% pure and good. If I ask 100 women with Natural Hair what they think the downside of Natural Hair is, they may have a lot of different answers.
Yeah, I know; did I hear you say frizz? dry hair? volume? that is a piece of cake compared to what most Natural Hair gurus won't talk about; "Ingrown hairs" my friend. Ahhhh, yes I am talking about those hairs in areas that we don't want it (and I know God put it there for a reason). Those unwanted hairs in unwanted places are as thick and stubborn as the ones on my head.
I did a laser treatment over one year ago under my arms, because that was just impossible. Best decision ever. Now after a year and half I am seeing some hair come up. I may go do a section or two of laser to remove it.
Meanwhile I haven't got the courage -and the money- to stand the treatment in other areas so the ingrown hairs are a constant struggle. Why does that happen?
Clogged hair follicle causes by dead skin. This makes the hair inside grow in different directions. Sometimes, cutting curly hair way too close to the skin will result in the sharpened end of the hair piercing the skin, causing an ingrown hair. Yes it is true that everyone can have ingrown hair, but this is a most common problem in women and men with curly or coarse hair.
The prevention is always the key, and here are the things that I am doing and it is working like a charm.
I am trying other alternatives for razors like laser (in some areas), and wax, in others, which still causes me some ingrown, but less dramatic than razor.
Try rubbing the area in circular motions with a wet microfiber cloth or with a scrub to stimulate the unwanted ingrown hairs to come out of the closet lol.
Never use a non-sharp razor. Did I say never? I meant NEVER.
Wet your skin with warm water before shaving.
Use the good products to shave, I am using Completely Bare Moisturizing No-Bump Shave Gel. This is amazing, they gave it to me at BeautyCon NYC and I can't talk nothing but good things about this product. It leaves the skin very smooth, it conditions, and help with ingrown hairs as well.
Apply a cool microfiber cloth to your skin after you shave to reduce irritation.
And finally use a product to treat and prevent ingrown. I highly recommend MY SKIN. It offers a variety of products for use after hair removal, all formulated to soothe, heal and prevent ingrown hairs. Choose between the Liquid Treatment, Cream, or Roll-On formulas to treat and prevent unsightly ingrowns. MY SKIN is formulated with Organic Tea Tree Oil, Black, and White Willow Bark Extract and Vitamin E. All formulas are safe for face, neck, underarms, bikini area, and anywhere else you may need it.
MY SKIN is available on www.gomyskin.com and retails between $10.99 and $29.99.
Este articulo esta disponible en: Español