Este articulo esta disponible en: Español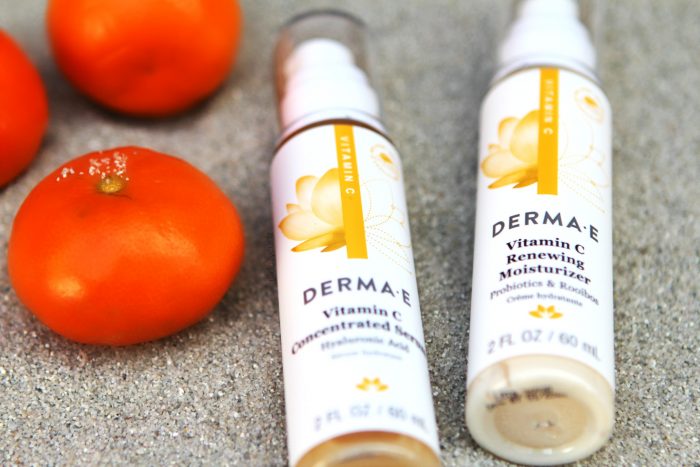 Summer is almost here and if you haven't started taking care of your face yet, now is the right time to start. Vitamin C to brighten your face this summer! Why do we love vitamin C?
Vitamin C has a special spot in my heart because it . Vitamin C is a powerful  antioxidant great for all type of skins and concern areas.
There are many forms of vitamin C and almost all of them are good for your skin for its Anti-Aging and brightening properties.
When adding vitamin C to your skin products you will be providing your skin with great benefits like hydration and a young looking skin, just make sure that you choose a well formulated product like my absolute love Derma E.
Their replenishing Vitamin C collection is formulated with 100% stable, nonoxidizing Vitamin Stay-C® 50 and moisturizing Hyaluronic Acid, helping to brighten the skin, support healthy collagen production, reduce the appearance of uneven skin tone and minimize the look of fine lines and wrinkles for a radiant and revitalized appearance. A unique combination of anti-aging Probiotics and antioxidant-rich Rooibos work hard to build up skin's natural defenses, boost the production of healthy skin and fight harmful bacteria that can cause blemishes and premature aging.
From the collection I am using just two products:Vitamin C Concentrated Serum and Vitamin C Renewing Moisturizer and I absolutely love it -well, I love all Derma E products – I can't wait to try the Vitamin C Micellar Cleansing Water that promises to remove make-up and impurities, while improving the appearance of skin's texture and promoting healthy collagen. Anti-aging Probiotics and antioxidant-rich Rooibos help skin to appear brighter and replenished.
Micellar waters work with a technology that gently lifts off dirt without rinsing, while maintaining skin's proper balance.
Este articulo esta disponible en: Español