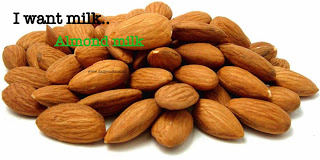 I ain't gonna lie I didn't know about almond milk, I didn't know you can make milk out of almonds, well not you (maybe) but buy almond milk. But thanks to my
Pinterest boards
I learned about it and how good it is for my overall health. I don't really like milk, so it took me a while to buy it, but I most say the taste is really good and you can buy it in different flavors and do pretty much anything with it as you would with cow milk… Almond milk is a healthy alternative if you can't or may not enjoy the taste of soy or cow's milk, or just looking for fewer calories alternative. (The low caloric content of almond milk causes less of an impact on our totally daily consumption of food calories.)
One cup  of unsweetened almond milk contains vitamins A, E, D and B12 plus riboflavin, magnesium, potassium, calcium, zinc and iron. It has zero saturated fat, zero trans fat, zero cholesterol and only 30 calories. The 1 cup serving size also has 1 gram dietary fiber, 1 gram carbohydrates with zero sugars, 2.5 grams of fat and 150 milligrams of sodium. Holy almond!!
Calcium and vitamins such as vitamins A and E  are abundant in almond milk. Calcium is essential for bone health, while vitamin A is important for vision as well as skin. Adequate amounts of vitamin E, an antioxidant, may help you maintain younger, healthier-looking skin. It is also an important vitamin to help maintain the immune system.
In addition to almonds and filtered water, almond milk may contain ingredients such as calcium carbonate, sea salt, sunflower lecithin, locust bean gum and gellan gum. Flavored almond milk may contain ingredients such as natural vanilla flavoring, and cocoa and all-natural evaporated can juice. Some varieties of almond milk include vanilla and chocolate.
Almonds are full of these essential nutrients and are a good source of protein, and we all know protein is good for your muscles, skin and for natural hair, So, as you consume it, you are increasing the level of health in your diet and healthy hair from the inside out
1.-
All you need is *Flax seed oil and almond milk (you can use powder or a combination of both) mix the ingredients and apply into hair as a pre-poo. wash and style as usual 
*Flax extract is known for its soothing properties and is rich in essential fatty acids, minerals and vitamins. The Omega 3 fatty acids helps nourish the hair shaft and help to produce hair growth, stronger and shinier hair. This also helps prevent dry scalp.
2.-Almond milk and Honey. This combination is refreshing for your hair, especially after exposure to sunlight or heat. Mix 1/4 cup of almond milk with two tablespoons of honey; use it as a pre-poo or DC, wash and style as usual.
And for your skin try this amazing Scrub.

What is your favorite way to use Almond milk?
I love it on my oatmeal with coconut butter and
chia seeds
, yummyyyy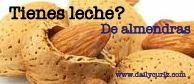 No voy a mentir Yo no sabía nada de la leche de almendras, en realidad ni sabía que se podía sacar leche de las almendras , bueno no yo (o tal vez si) en realidad comprarla, jejjeje.  Pero gracias a mis 
board en Pinterest
aprendí sobre ella y lo buena que es para mi salud en general. No me gusta mucho la leche, así que me tomó un tiempo para comprarla, pero debo de decir que su sabor es muy bueno y se puede comprar en diferentes sabores y hacer casi cualquier cosa con ella como lo harías con leche de vaca .. . La leche de almendras es una alternativa saludable si no puedes o no te gusta disfrutar del sabor de la soja o la leche de vaca, o simplemente buscas una alternativa con menos calorías. (El bajo contenido calórico de la leche de almendras produce un menor impacto en el consumo total diario de calorías de los alimentos.)
Una taza de leche de almendras sin azúcar contiene vitaminas A, E, D y B12 más riboflavina, magnesio, potasio, calcio, zinc y hierro. Tiene cero grasa saturada, grasa trans cero, cero colesterol y calorías sólo 30. El tamaño de la porción 1 taza también tiene 1 gramo de fibra dietética, 1 gramo de hidratos de carbono con cero azúcares, 2,5 gramos de grasa y 150 miligramos de sodio. Santa leche de almendras!
Calcio y vitaminas como las vitaminas A y E son abundantes en la leche de almendras. El calcio es esencial para la salud de los huesos, mientras que la vitamina A es importante para la visión, así como la piel. Las cantidades adecuadas de vitamina E, un antioxidante, puede ayudar a mantenerte  más joven, con una apariencia más sana de la piel. También es una vitamina importante para ayudar a mantener el sistema inmunologico.
Además de almendras y agua filtrada, la leche de almendras puede contener ingredientes tales como carbonato de calcio, sal de mar, lecitina de girasol, goma de algarroba y goma de gelano. las de sabores pueden contener ingredientes tales como aroma natural de vainilla, cacao etc. Algunas variedades de leche de almendras incluyen vainilla y chocolate.
Las almendras están llenas de nutrientes esenciales y son una buena fuente de proteínas, y todos sabemos que la proteína es buena para los músculos, la piel y para el cabello natural, Así que, consumiendola  aumentas el nivel de salud en tu dieta y la salud del cabello de adentro hacia afuera.
Mascarillas caseras para el cabello.
1.-
Todo lo que necesitas es * Aceite de semilla de lino y leche de almendras (se puede utilizar polvo o una combinación de ambos) mezclar los ingredientes y aplicar sobre el cabello como un pre-poo. lavar y peinar como de costumbre
* Extracto de Linaza es conocida por sus propiedades calmantes y es rico en ácidos grasos esenciales, minerales y vitaminas. Los ácidos grasos Omega 3 ayudan a nutrir el cabello y ayudan a producir el crecimiento del cabello, más fuerte y brillos. Esto también ayuda a prevenir el cuero cabelludo seco.
2.-
Leche de almendras y miel. Esta combinación es refrescante para el cabello, especialmente después de la exposición a la luz solar o el calor. Mezclar 1/4 taza de leche de almendras con dos cucharadas de miel, lo utilizan como un pre-poo o TP lavar y peinar como de costumbre.
Y para prueba este exfoliante maravilloso.
Y tu como usas la leche de almendras?
A mi me encanta hacer la avena con ella y coconut butter y 
chia seeds.
. ummmm