In Southern California we have one of the best weather conditions in the United States! However, during the last few days, the Angelinos are suffering for an "extreme" cold weather,  yes I know what you are thinking right now:! This curly girl is totally out of her mind, but hey!!! 60 degrees Fahrenheit it is extremely cold for us. There is one place in Southern California where it will be COLD till January 5th "CHILL" at the Queen Mary in Long Beach.
Ice Tubing: It's cold. It's fast. It stands at 2 stories tall, 100-feet long. And it's made entirely out of ice, fun for the entire family.
Chill was magical with indoors and outdoors activities, live entertainment, holiday activities. Not to mention, the Ice Kingdom and its slides, ice tubing, ice sitting, and as important, lots of good food, drinks and a magnificent view.  Ticket includes all day access to the beautiful and extravagant Queen Mary.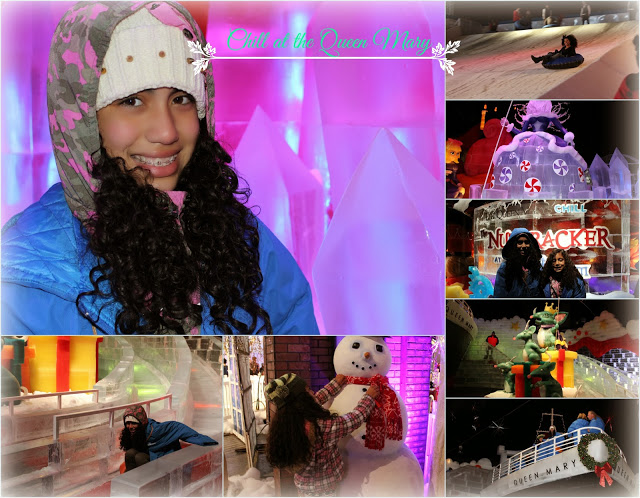 The nutcracker story inside the Ice Kingdom, all made out of ice, beautiful and brrr—cold.
General Information about CHILL
General Admission: $34.95 online/$39.95 door
($29.95 online/$34.95 door on 12/3-5; 12/10-12; 12/17-19)
Child (4-11): $19.95 online/$19.95 door ($14.95 online/$19.95 door on 12/3-5; 12/10-12; 12/17-19)
Children 3 and under are free. buy tickets here
CHILL VIP hotel package 
Unlimited access to the CHILL Holiday Event with Two (2) VIP CHILL passes (available ONLY to hotel guests), which include The Ice Kingdom, Ice Skating (skate rental included) and Ice Tubing plus one night's stay aboard the beautiful Queen Mary – starting at $129.  Details here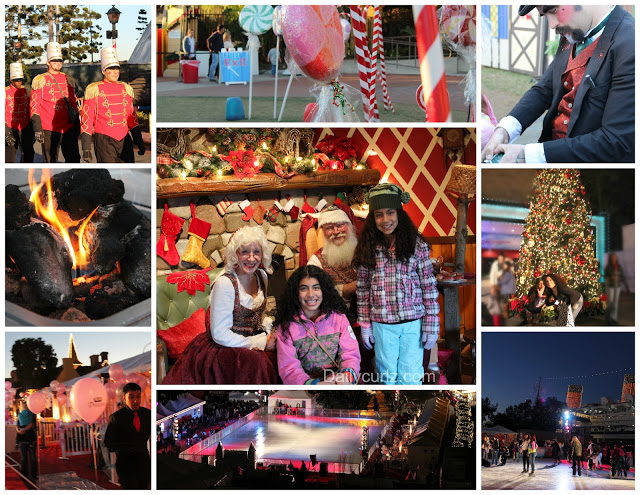 Outdoors activities at CHILL
Thanks a lot Chill for the complementary tickets

Español

En el sur de California, tenemos una de las mejores condiciones climáticas de los Estados Unidos! Sin embargo, durante los últimos días, los Angelinos estamos sufriendo de un "extremo" clima frío, sí, yo sé lo que estás pensando ahora mismo: Esta chica rizada está totalmente loca, pero bueno! 60 grados Fahrenheit es extremadamente frío para nosotros. .Pero hay un lugar donde estará super frío hasta el 05 de enero " CHILL " en el Queen Mary en Long Beach.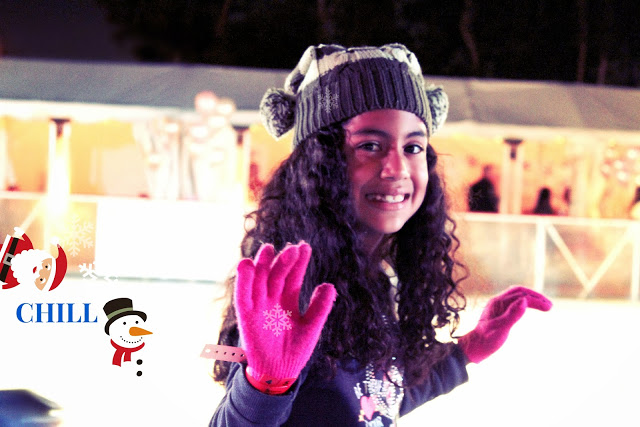 Tubería de Hielo (ice tubbing): Es frío . Es rápido . Se encuentra a 2 pisos de altura , 100 metros de largo . Y está hecho completamente de hielo , diversión para toda la familia .
Chill es realmente mágico, con actividades en interior y exterior: actuaciones en vivo, actividades de navidad, El Reino del Hielo y sus diapositivas, deslizado en tubo sobre hielo, patinaje sobre hielo, una gran cantidad de buena comidas y bebidas y una vista extraordinaria del puerto de Long Beach y el Queen Mary. Ticket incluye todos los accesos al barco.
En el reino de Hielo o Ice Kingdom esta plasmada la historia del cascanueces totalmente en hielo, bellas esculturas que te dejaran delirando de belleza y frio, jejjeje
Información general sobre CHILL
Entrada General : $ 34.95 en línea— puerta / $ 39.95
($ 29.95 en línea — puerta / $ 34.95 en 12/3-5 ; 12/10-12 ; 12/17-19 )
Niños ( 4-11) : $ 19.95 línea — puerta / $ 19.95 ($ 14.95 en línea / $ 19.95 puerta en 12/3-5 ; 12/10-12 ; 12/17-19 )
Niños de 3 años entran gratis. comprar entradas
aquí
Paquete de hotel VIP CHILL
Acceso ilimitado a CHILL con dos pases  ( 2 ) VIP CHILL  ( disponible sólo para los huéspedes del hotel ), incluyen The Ice kingdom , Patinaje sobre hielo ( alquiler de patines incluido) y Hielo Tubing , más una noche de estancia a bordo de la hermosa Queen MAry -comenzando en $129. Detalles
aquí
Gracias a Chill por las entradas y atenciones.