Consideration was provided by Target.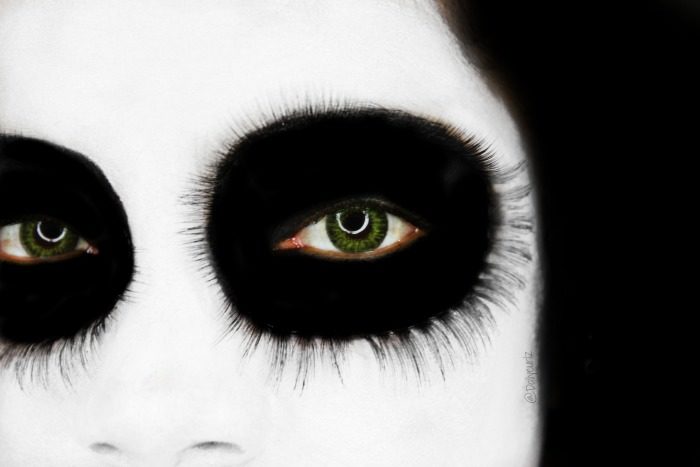 If you have read my posts for quite a while, you already know how much I enjoy Halloween, I always love the idea of being someone or something else for a day, and this year I was inspired to do an easy Halloween makeup idea that is both creepy and easy. My inspiration was, of course Dia de los Muertos, now all I need is a lot of candy to empalagarme, lol.
An easy makeup idea is only easy if it doesn't break the bank, so I went to Target to get everything I needed (not much): a Halloween makeup kit, black eye liner, fake eyelashes, and red lipstick. At Target, you can find pretty much all your favorite brands. I added an extra touch with my favorite green contact lenses.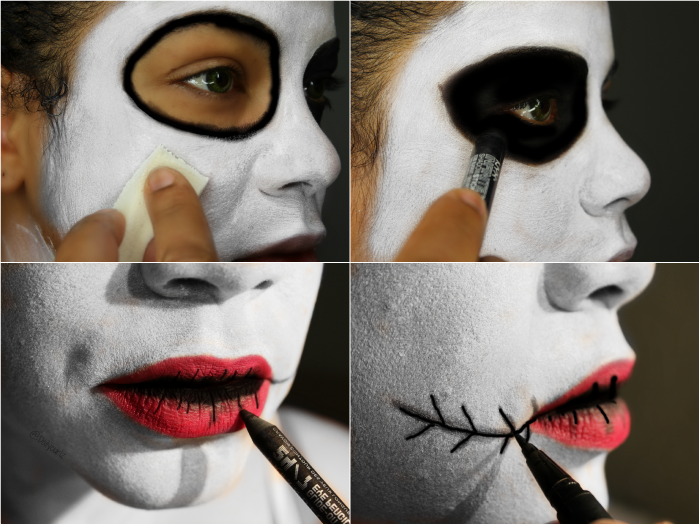 Step 1: On a clean face, draw a large circle around your eyes with the eye pencil you bought. I preferred to filled in the circle after I was done with step 2.
Step 2: After drawing the circle around your eyes, cover your whole face and part of your neck with the white cream from your Halloween makeup kit (not inside of the circle).
Step 3: Fill in the circle you drew around your eyes with the black cream from your Halloween makeup kit. Set it all in with a matte black eyes shadow (I am using an eye shadow pencil). After this is complete, place your eyelashes on the outside of your circle. Apply more black cream, black eye pencil, or black eye shadow for a cleaner finish if needed.
Step 4: Put red lipstick on your lips and apply powder on top of the lipstick to give it a matte finish (if you have a matte red lipstick, even better). Apply the eye pencil on the inside of your lips and then you can start tracing out the "stitches". Finish it up with a dark eye liner.
Step 5: This is for the savvy ones: If you are crazy about contouring, be my guest and do your magic but don't forget to tag me @dailycurlz on your pictures (this is a step that I skipped, because I am NOT a contouring expert, lol).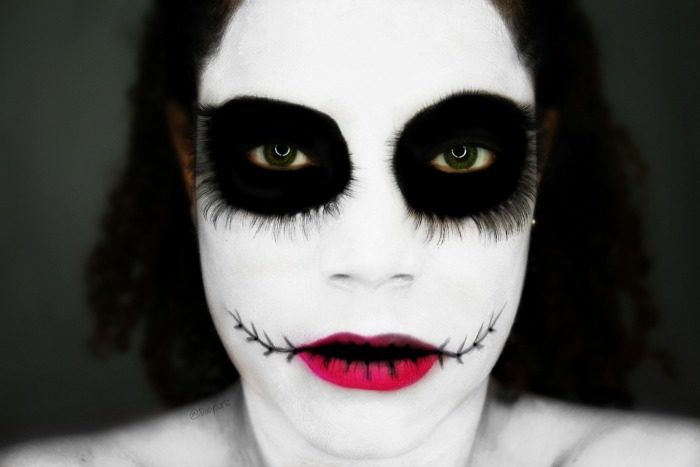 Español
Si me sigues por un tiempo, sabras que me encanta Halloween, me encanta el disfrazarme y ser alguien -o algo- diferente por un día. Este año me hare un maquillaje que es sencillo y fácil, pero a la vez  espeluznantemente bello. Mi inspiración fue Día de los Muertos, y con el estoy lista para empalagarme con dulces este día de Halloween.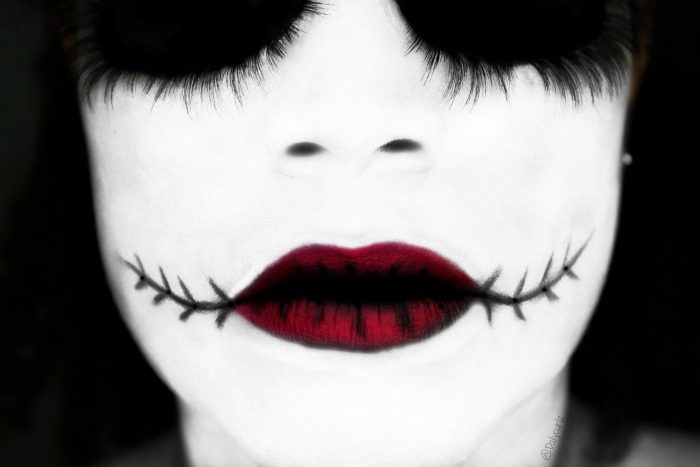 Una idea de maquillaje fácil sólo es fácil si no se pasa mucho tiempo ni dinero en el, así que fui a Target para conseguir todo lo que necesitaba (no mucho): un kit de maquillaje de Halloween, un delineador de ojos negro, pestañas postizas, y lápiz labial rojo. En Target  puede encontrar casi todas tus marcas favoritas. He añadido un toque extra con mis lentes de contacto verdes favoritos.
Paso 1: En una cara limpia, dibuja un gran círculo alrededor de los ojos con el lápiz de ojos. Preferiblemente rellena el círculo después de terminado el paso 2.
Paso 2: Después de dibujar el círculo alrededor de los ojos, cubre toda la cara y parte del cuello con la crema blanca del kit de maquillaje de Halloween (no dentro del círculo).
Paso 3: Rellena el círculo que dibujaste alrededor de los ojos con la crema negra del kit de maquillaje de Halloween. Sella o termina con una sombra de color negro sin brillo (yo estoy usando una sombra en lápiz). Luego coloca las pestañas en la parte exterior del círculo. Aplicar más crema negra, lápiz de ojos, o sombra alrededor de las pestañas para tapar cualquier error y que quede todo mas limpio.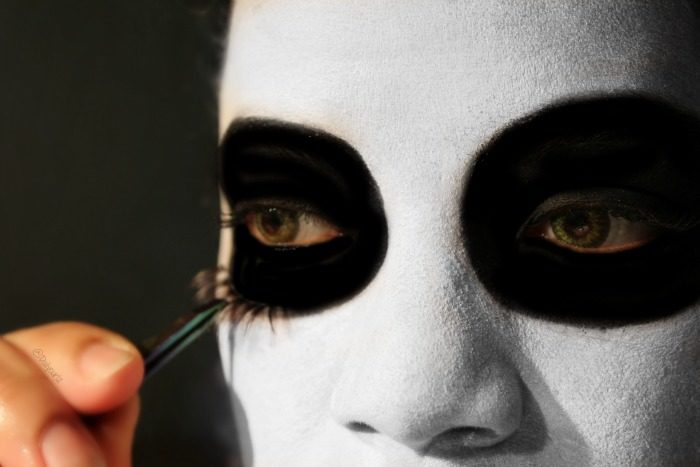 Paso 4: Coloca el lápiz labial rojo en los labios y aplica polvo en la parte superior para darle un acabado mate-sin brillo- (si tienes un lápiz labial rojo mate, incluso mejor). Aplicar el lápiz de ojos en la parte interior de los labios y entonces puedes comenzar a trazar las "puntadas". Terminar con un delineador para trazos mas acabados.
Paso 5: Este paso es para las que les gustan los detalles: si sabes o te gusta el contouring, dale unos toques finales a tu maquillaje para mayor profundidad en los pómulos y nariz.. Si lo haces no olvides el hacerme tag @Dailycurlz para ver tus fotos.