Este articulo esta disponible en: Español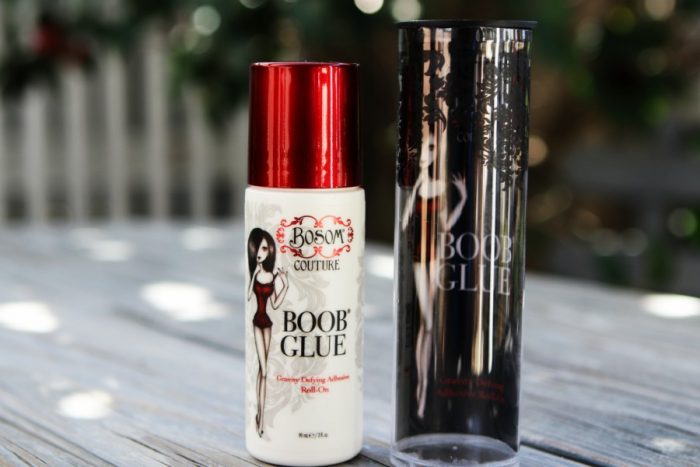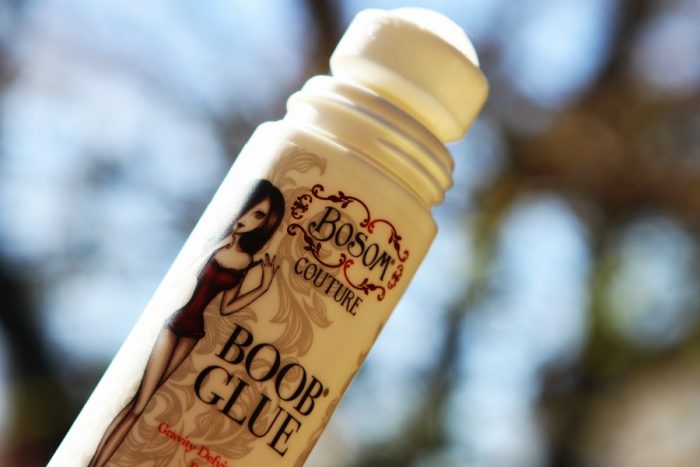 I tried the BOOB GLUE® and you won't believe what happened. I have several dressesdresses, tops, and blouses that always shift or gap and that is why sometimes I wear a little top underneath. I really like to use blouses and dresses that show a little cleavage, but I don't quite have small boobs and only the idea of showing more than I want scares me. I have tried the body tape and it never worked for me, I think because my princesses are not small.
When I found out about the BOOB GLUE® BOOB GLUE® I had to try it.
The Boob Glue by Bosom Couture is a gentle roll-on skin adhesive that keeps breasts lifted up and positioned perfectly in place in clothing.
Ingredients:
Boob Glue® is free of any silicones, latex and parabens
All ingredients tested and proven safe for use.
ALCOHOL DENAT, PV/VA COPOLYMER, WATER, BUTYLENE GLYCOL, TOCOPHERYL ACETATE, ALOE BARBENSIS LEAF JUICE, FRAGRANCE (PARFUM).
How to apply:
STEP 1:
Make sure area is clean and dry, free from any oils, lotions or powders.
STEP 2:
With your garment on, remove one breast at a time. Holding center of breast, roll on Boob Glue® liberally and thoroughly around the entire breast area that is to be placed in garment, avoiding nipple area.
STEP 3:
Arrange breasts into desired position. Hold in place and press firmly for 1 minute. Remove any residue on skin or bra with a damp cloth.
Bosom Couture Boob Glue® can also be used to give added lift and support in strapless and push up bras, bustiers, swimwear, and more.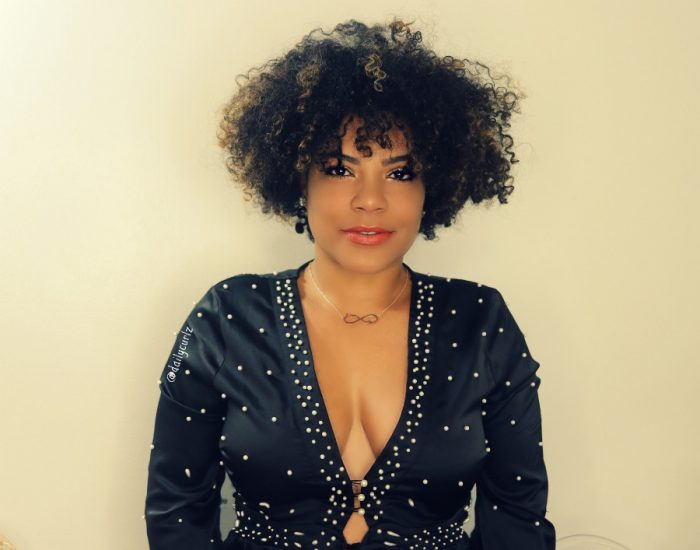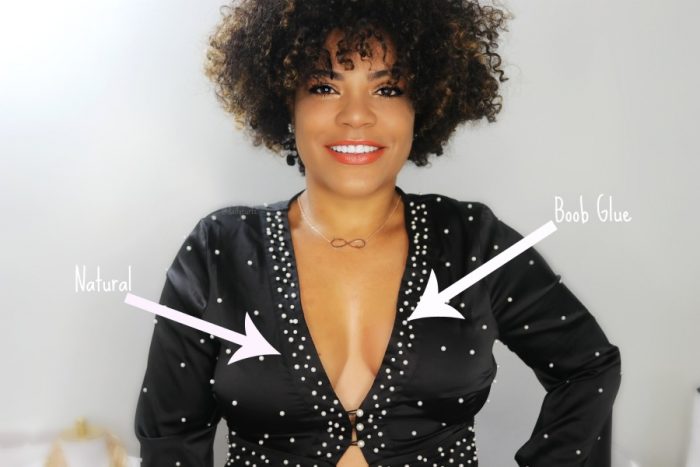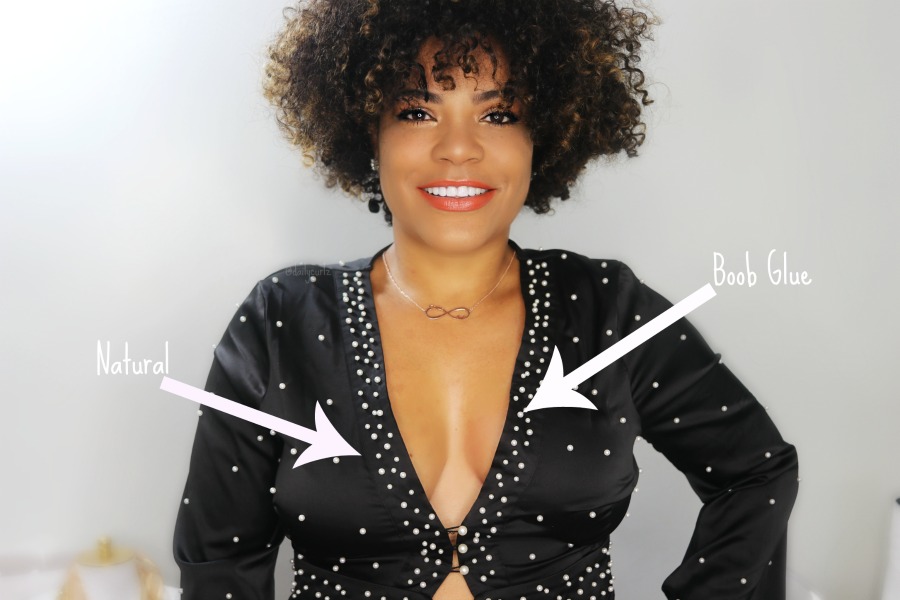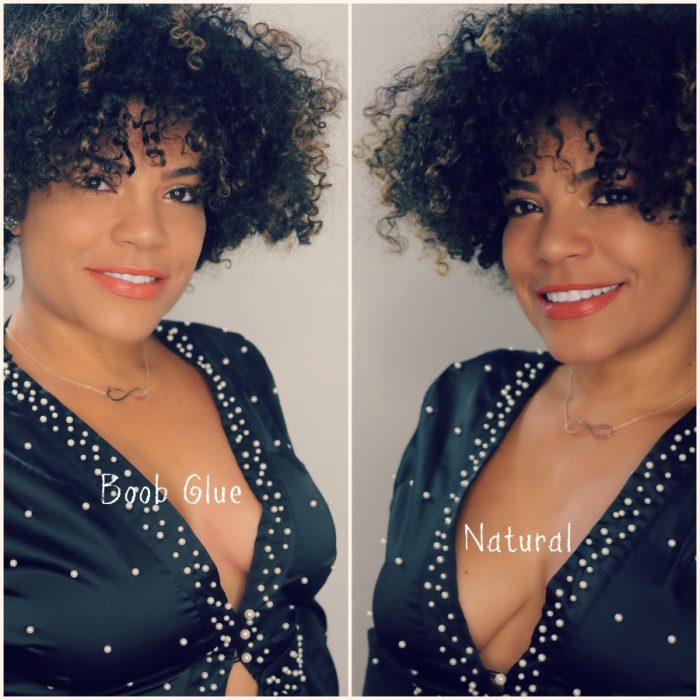 I was bending over and the blouse stayed in place where i had the glue while the other side had a huge gap and showd my boobs.
The results:
I love and was impressed with the results, it is truly unbelievable and it feels very comfy. I love the idea that you can use it both for lifting your breasts or just to keep your garment in place.
I love, love how if I bend or move, the blouse stayed in place.
They claimed that it doesn't stain the garment/fabric but the truth is that it does, but not on all fabrics.
As you can see, this black blouse did get stained, but I safelly removed with just water.
I can't give any opinion on using this product and going dancing, I truly think that if you sweat (or swim with it), it may not be as effective, if you used it this way please let us know in the comment box below.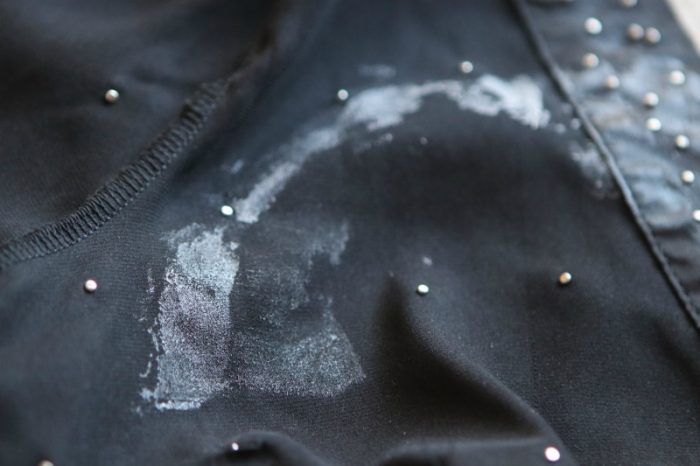 The product didn't irritate my skin, but my skin is not sensirive, so I highly recommend trying the product in a small area before using it.
I totally love the firm hold this product gives. Boob glue® is easy to use and very effective and I am ready to rock all those cute tops and dresses without an undershirt.
SaveSave
SaveSaveSaveSave
SaveSave
SaveSave
Este articulo esta disponible en: Español