What is a Q-Rediew? 
Their Claim!!!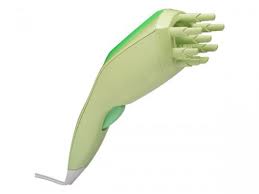 The Q-Redew uses warm mist to enhance your hair's volume and texture.  The Q-Redew reshapes and restyles dry hair in minutes.
No mess, no fuss, no chemicals – just water.
The innovative Q-Redew tool allows perfect styling control in minutes without rewetting or shampooing.  You apply the Q-Redew's warm mist to reshape, volumize and style your locks.  Boost your curls, lift flat hair, transform bedhead to your best hairstyle.
The Q-Redew disperses gentle warm mist into the cuticle of dry hair to naturally moisturize the strand leaving your hair dry revitalized. 
Fill reservoir with water.  Plug in to heat up the Q-Redew. Press the trigger to release the steam. Can be used with rollers or clips to control shaping.
Before I'll go over these claims and  review, please watch this video where I show you how it works. I used on 3 different "type" of hair.
This  are my personal opinions based on my own experience with the product.
I always refresh my hair with a spray bottle filled with water a couple of oils drops and leave-in conditioner, but when I heard about this hand-held steamer I saw it could be a great product; the steamer cost $69.95 and its designated to use on dry hair as they explain on the
website.
My thoughts:
What I didn't like about it?
The water compartment is way to small and I had to refill more than 2 times to steam my whole hair. 
Its way to heavy to go all over my hair. 
It left my daughter (3a-b) and mine extremely frizzy.
It didn't bring my curls back to life
It can get REALLY HOT
Its not safe to use with kids ( I did with extremely caution)
I get better result with my water mist for a dollar.
As you can see on the video it did worked on wavy hair and kind of helped with reshape and gave curls definition. It also lifted my flat hair and gave me more volume (not that I need it ) 
I used it exactly as it said on the manual several times before recording the video and the result were always the same and even worse. I think it will work better as a regular steamer on wet conditioned hair, but not as convenience as sitting under one.
What do you think about this product? Have you used it?
¿Qué es el Q-Rediew?
Lo que ellos dicen.
El Q-Redew utiliza vapor caliente para aumentar el volumen de tu cabello y textura. Los remodela y revive en cabello seco  en minutos.
Sin suciedad, sin aspavientos, sin productos químicos – sólo agua.
El innovador Q-Redew  permite un control perfecto en cuestión de minutos sin remojo o champú. Se aplica vapor caliente del Q-Redew para remodelar, dar volumen y estilo a tu cabello. Aumenta los rizos, levanta el pelo liso, transformar el cabello para su mejor peinado.
El Q-Redew dispersa vapor caliente suave en la cutícula del cabello seco para hidratar naturalmente la hebra dejando el cabello seco revitalizado.
Llene el depósito con agua. Enchufe para calentar el Q-Redew. Presione el gatillo para liberar el vapor. Se puede utilizar con rolos o clips.
Antes de comenzar con la reseña y mi opinión, chequea el video de arriba en donde muestro cómo funciona. Lo utilice en tres diferentes tipo de cabello.
Esta es mi opinión personal basada en mi propia experiencia con el producto.
Siempre refresco mi pelo con una botella de spray llena de agua un par de gotas de aceite y leave-in, pero cuando me enteré de este vaporizador de mano pense que  podría ser un gran producto, el vaporizador cuesta $ 69.95 y esta designado para utilizar en el cabello seco como explican en su pagina web.
Mi opinión :
Lo que no me gusto.
El compartimiento de agua es muy pequeño y tuve que llenarlo  más de 2 veces ara poder aplicar vapor a todo mi cabello. 
Es un poco pesado para tenerlo en la mano y aplicar vapor a todo mi cabello.
El cabello de mi hija (31a-b) y el mio quedo extremadamente frizz.
No nos ayudo a volver nuestros rizos a la vida.
Se puede tornar muy caliente
No es seguro para usar con niños (yo lo hice con gran precaución)
Me da mejor resultado mi botella atomizadora de un  dólar.
Como se puede ver en el video si  trabajó en el cabello ondulado y en cierto modo si ayudo a remodelar y dar definición a sus rizos. También ayudo a levantar mi cabello que estaba un poco aplastado y le dio mas volumen. 
Lo utilicé exactamente como dice el manual varias veces y el resultado fue siempre el mismo. Pienso  que funcionaria mejor como un vaporizador en el cabello mojado y acondicionado, pero no tan conveniente como sentarse bajo uno. 
¿Qué piensas de este producto? ¿Lo has usado?