In Spring, there's a transition from the dryness of winter to the moisture from the rain and the impending humidity of the summer. I would back down from the heavier conditioners using lighter ones. Begin to protect the hair from the increased expose to the sun. Keep the cuticle sealed, so it won't absorb the moisture in the air. 
For this DIY mask you will need plain yogurt, Mayonnaise and egg white. This conditioner can soften dull hair and add life to it.
Why these ingredients?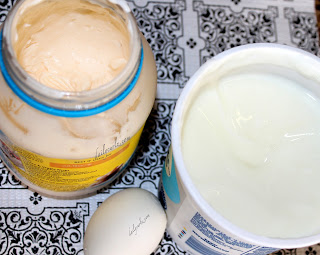 Yogurt:Yogurt is associated with the term "probiotics", which means "that which supports and is for life"! Yogurt is a dairy product that is obtained by fermenting milk. This fermentation uses bacteria to transform milk which is a liquid into yogurt which is semi-solid in nature. Yogurt is a proven treasure-trove of enriching elements like zinc, calcium, lactic acid, Vitamins B1, B2, B-6 and B-12, protein, and yeast. It holds rich deposits of friendly bacteria that boost overall health as well as that of the hair and skin. Yogurt has a multitude of benefits that will surely work wonders for your hair and skin problems.
 Its perfect to use a  conditioner base, and is also a gentle cleanser. Yogurt promotes hair growth, and makes it easy to comb hair, get rid of knots and prevent frizzy hair.  
All these benefits will be double good if you also make yogurt part of your diet "beauty inside out"
Egg:
Raw eggs contain a significant concentration of essential proteins and nutrients. Because of the high protein content, eggs can be used to strengthen hair follicles. Likewise, the nutrients work much like conditioners to add volume, shine and texture.
Mayo,
Mayo is particularly good known for be good on dealing with dry hair while moisturizing it, while giving it shine and body.
Mayonnaise contains eggs, vinegar or lemon juice, and oil. All three of these ingredients are good for moisturizing hair individually, and the combination will give you shiny curls. The thickness of mayonnaise helps coat your hair with these ingredients and can also work as a sealant on split ends.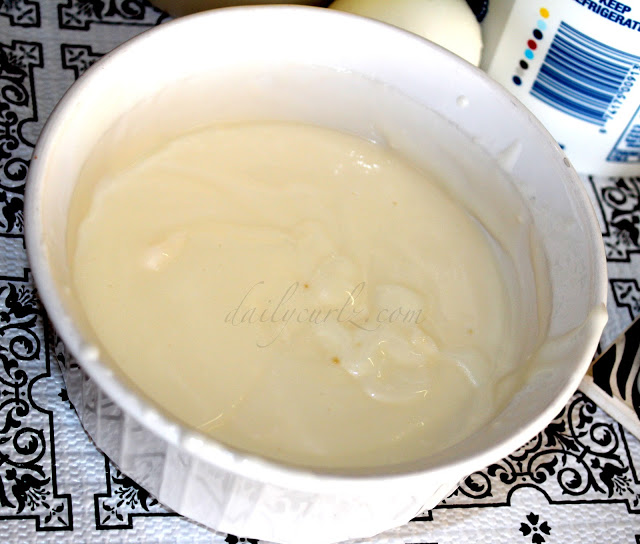 Mix all the ingredients, the quantity will vary on your hair length.
On mine mix: one egg white 3 full spoon of yogurt and 2 of Mayo.. I always use natural mask as pre-poo.
Español