Yes, I am a Avocado lover, and in this post I will share with you three recipes, so get your self a large avocado and don't throw away that pit yet.☺
Eat it…
Ingredients 
1 bag of field greens or spring mix
1 avocado Hass
1 cucumber
Optionals (green bell pepper, Onion, smoked Salmon)
Olive oil (leave some for you hair treatment)
 lemon juice
Dijon mustard, salt and pepper 
Mix all the ingredients, make it look beautiful add dressing and sprinkle with  
chia seed 
.
Avocados are high in vitamins B and E, which work at the cellular level to protect and strengthen hair. Vitamin B is essential for hair growth. Vitamin E helps repair damage on the scalp, which may slow or prevent hair growing, so don't just apply it, Eat it "Beauty Inside Out."
Rub It… 
Ingredients:
1 avocados 
1/4 cup cornmeal
1 tbsp sea salt
Let the preparation start: 
Dry out an avocado pit for a few days, then break it into several pieces with a hammer or cooking mallet. In a spice mill, coffee grinder or food processor, grind down the pit to make a gritty meal.
A ground avocado pit is abrasive enough to break down calluses, while the fruit's rich flesh contains essential oils that nourish skin.
Mash the avocado fruit with the cornmeal, 1/4 cup of ground avocado pit and sea salt.
Gently massage the mixture into your feet in a circular motion, starting with the toes and working up to the ankles. Rinse with warm water.☺
Apply it…
Ingredients:
1 tsp pf Honey
2 tsp Olive Oil
1-2 tsp of coconut oil
1/2 Avocado
Mix all the ingredients, you can mashed the avocado, but I prefer to use a food processor to a smooth texture. Apply on dry hair as a pre-poo (my favorite) or on damn hair. Leave it on for at least 30 Min. and rinse out with warm water. 
Avocados contain Vitamin E, as well as 20 other vitamins, minerals and phytonutrients. The high-fat content of avocados makes hair less dry and help with breakage. Great for severely damaged or dry hair ,protect and strengthen hair.
Another great
avocado hair mask
here.
Do like avocado? How do you use it?
Español

Sí, me encanta el aguacate, y en este post voy a compartir con ustedes tres recetas, así que compra un aguacate grande y no vallas a tirar esa semilla. ☺
Comelo …
Ensalada verde Inspirado por  Adriana best recipe 
Ingredientes
1 bolsa/funda de lechuga mixtas
1 aguacate
1 pepino
Opcionales (pimiento verde, cebolla, salmón ahumado)
Semillas de Chia Chia seeds 
Para el aderezo
Aceite de oliva  (deja algo para el tratamiento del cabello jajja)
Jugo de limón
Mostaza Dijon, sal y pimienta
Mezclar todos los ingredientes, Ponlo en un platon que se vea linda y espolvorear con semillas de chía.
Los aguacates son ricos en vitaminas B y E, trabajan a nivel celular para proteger y fortalecer el cabello. La vitamina B es esencial para el crecimiento del cabello. La vitamina E ayuda a reparar el daño en el cuero cabelludo, lo que puede retrasar o prevenir el crecimiento del cabello, así que no sólo lo aplican, Comelo "Belleza de adentro hacia afuera".
Untalo …
Exfoliante para los pies
Ingredientes:
1 aguacate
1/4 taza de harina de maíz
1 cucharada de sal marina
Vamos a comenzar la preparación:
Seca una semilla de aguacate por unos días y luego la rompes en varios pedazos con un martillo o mazo de cocina. En un procesador de especies, molino de café o de  alimentos, muele la semilla hasta formar una pasta arenosa.
La semilla del aguacate es lo suficientemente abrasivo como para desbaratar callos, mientras que la masa de la fruta contiene aceites esenciales que nutren la piel.
Has pure el aguacate y mezclalo con la harina de maíz, 1/4 taza de la semilla molida y sal marina.
Masajear suavemente la mezcla en los pies con movimientos circulares, empezando por los dedos de los pies y subiendo hasta los tobillos. Enjuague con agua tibia. ☺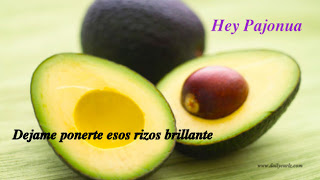 Aplíquelo …
Mascarilla para el pelo
Ingredientes:
1 cucharadita de miel de abejas
2 cucharaditas de aceite de oliva
1-2 cucharaditas de aceite de coco
1/2 aguacate
Mezclar todos los ingredientes, puedes hacer un puré con un tenedor, pero yo prefiero usar un procesador de alimentos para una textura suave y uniforme. Aplicar sobre el cabello seco como un pre-poo (mi favorito) o en el pelo mojado. Dejar actuar durante al menos 30 min. y enjuagar con agua tibia.
Los aguacates contienen vitamina E, así como 20 vitaminas, minerales y otros fitonutrientes. El alto contenido en grasa del aguacate Nutre el cabello reseco y ayuda con la rotura. Ideal para cabello severamente dañado o seco, protege y fortalece el cabello.
Aqui encuentras otra mascarilla de aguacate espectacular.
Y tu como prefieres el aguacate, comparte tu receta 🙂