Some fruits can promote healthy, longer hair naturally here are the ones you should look for..
fruits with Vitamin A
Vitamin A is essential in promoting healthy hair growth and overall maintenance. It can also decrease hair loss while contributing to strength, shine and luster. Individuals deficient in this vital vitamin generally have dull hair, which easily breaks, hindering growth and a healthy appearance. Regularly consuming fruits high in this compound helps to reverse hair loss to lustrous growth. 
Eat a variety of colorful fruits such as cantaloupes, grapefruit, apples, tomatoes and watermelon, eating it without peel it can help you more, as they contain phytonutrients beneficial to hair health and overall vitality. Beta-carotene, alpha-carotene and retinol are all versions of vitamin A that can benefit hair growth.
Fruits With Vitamin B Complex
An abundance of the vitamin B complex groups increases hair growth by improving the blood circulation and oxygenation within the body, specifically the scalp. It also reduces the levels of stress and cholesterol, which negatively affect hair growth. This vitamin group helps you reach your hair growth genetic potential. The three major vitamin B components are para-aminobenzoic acid, inositol and biotin. They are crucial in facilitating healthy hair growth. Eat a wide range of fruit containing B vitamin complex, such as blueberries, pineapple, tomatoes, banana and cranberries.
Vitamin C is a necessary compound for a myriad of bodily functions and development. As one of the more powerful antioxidants, vitamin C contributes to the creation of collagen, which circumvents the hair from splitting and breaking. This compound also protects the body from free radical damage associated with external deterrents that can cause stress and imbalances leading to hair loss. 
Supplement a balanced diet with a plethora of vitamin C-containing fruits. Strawberries, passion fruit, guava, black currants, breadfruit and kiwi can help to ensure healthy hair thickness as well as growth.
Try this refreshing smoothies for the summer
Red and Blue Smoothies 
vary the color of these by the types of berries you use. Raspberries will give a rosy pink, while blueberries, blackberries, or mixed berries will produce a blue shade
2 medium bananas, cut into 1/2 inch slices               
1 cup mixed fresh berries
2 cups plain fat-free yogurt                                       
1 cup of strawberries, chilled or frozen.
1 tbsp honey (optional)
Combine all the ingredients in a blender, add some ices and blend until smooth. If desired top each serving with additional fresh berries…
banana-berry smoothies
your curlz and your body will love this one, add some scoop of protein powder, this will make an excellent breakfast or snack.
1 cup vanilla low-fat yogurt                                 
1 cup frozen or fresh strawberries
3/4 cup milk
2 medium banana 
Combine all the ingredients in a blender until smooth, (add ice if you want) decorate and enjoy.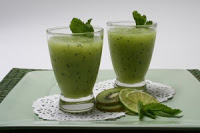 Kiwi-Melon Coolers 
2 cups of chopped Melon                     
1 to 1 1/4 cups apple juice
1 kiwi, peeled and Chooped 
Add ice, blend and enjoy..
you can replaced yogurt by milk or soy milk or any milk you enjoy best, or just add water, lemon juice or orange juice.
Please try it and share your comments or just share your favorite recipe..This blog and I love and need 
feedback!!
Algunas frutas pueden promover el crecimiento del cabello sano, naturalmente, aquí están las brutas que debes elegir y porque.
Las frutas con vitamina A
La vitamina A es esencial para promover el crecimiento del cabello sano y mantenimiento en general. También puede disminuir la pérdida del cabello al tiempo que contribuye a la fuerza, brillo y lustre. Los individuos con deficiencia de esta vitamina que es vital en general, tiene el pelo opaco, que se rompe fácilmente, dificultando el crecimiento y una apariencia saludable. Las frutas altas en vitamina A ayudan a revertir la pérdida del cabello a un crecimiento brillante.
Coma una variedad colorida de frutas como los melones, pomelos, manzanas, tomates y sandía, comerlo con la piel o cascaras te puede ayudar más, ya que contienen fitonutrientes beneficiosos para la salud del cabello y la vitalidad en general. El beta-caroteno, el alfa-caroteno y el retinol son todas las versiones de la vitamina A que pueden beneficiar el crecimiento del cabello.
Frutas con vitamina del complejo B
La abundancia de los grupos de vitaminas del complejo B aumenta el crecimiento del cabello, mejorando la circulación sanguínea y la oxigenación en el cuerpo, específicamente en el cuero cabelludo. También reduce los niveles de estrés y el colesterol, que afectan negativamente el crecimiento del cabello. Además, este grupo de  vitaminas ayuda a alcanzar el potencial genético máximo del cabello genética. Los tres componentes principales de vitamina B son ácido para-aminobenzoico, inositol y biotina. Son cruciales para facilitar el crecimiento del cabello sano. Comer una amplia variedad de frutas que contiene complejo de vitamina B, como los arándanos, la piña, tomate, plátanos (bananas, guineos) y arándanos.
La vitamina C es un compuesto necesario para una gran variedad de funciones corporales y el desarrollo. Como uno de los más poderosos antioxidantes, la vitamina C contribuye a la creación de colágeno, lo que evita el la división y ruptura del cabello. Este compuesto también protege al cuerpo de daños de radicales libres asociados con impedimentos externos que pueden causar estrés y los desequilibrios que conducen a la pérdida del cabello.
Complementar una dieta balanceada con una gran cantidad de vitamina C que contienen las frutas. Las fresas, fruta de la pasión(maraculla, chinola), guayabas, grosellas negras, árbol del pan y el kiwi puede ayudar a asegurar el espesor del cabello sano, así como el crecimiento.
Prueba estos refrescantes batidos aquí para  el verano
Batido Rojo y Azul
variar el color de este batido por el color de bayas que utilizas. Frambuesas le dará un color rosado a rojo , mientras que los arándanos, moras, frambuesas, etc  producen color mas azul
2 bananas medianas, cortadas en 1/2 pulgada
1 taza de mezcla de bayas frescas
2 tazas de yogur sin sabor sin grasa
1 taza de fresas, refrigerados o congelados.
1 cucharada de miel (opcional)
Combine todos los ingredientes en una licuadora, agregar algunos hielos y mezclar hasta que quede suave. Si lo desea decore con bayas frescas adicionales …
A tus rizos y tu cuerpo le encantará esta batida, agregar un poco de proteína en polvo para una comida completa  excelente desayuno o merienda.
1 taza de yogur de vainilla bajo en grasa
1 taza de fresas congeladas o frescas
3/4 taza de leche
2 banana mediana
Combine todos los ingredientes en una licuadora hasta que quede suave, (añadir hielo si desea) decorar y disfrutar.
2 tazas de melón picado
1 a 1 1/4 tazas de jugo de manzana
1 kiwi, pelado y picado en cuadritos
Agregar hielo, licuar y disfrutar  ..
que se puede sustituir el yogur por la leche o leche de soya o la lecheque mas te guste, o simplemente añadir agua, jugo de limón o jugo de naranja.
Que te parecen estas recetas, las trataras? las ha tratado? tienes alguna receta que compartir? Comenta, este blog y yo adoramos y vivimos de  los comentarios.
*All pictures from Google